business
Turnbull Warns of Tougher Economic Times for Australians
By
Australia to suffer scarcer jobs, less promising prospects

Repeats White House assurance on deal to resettle refugees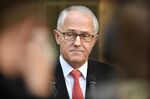 Australian Prime Minister Malcolm Turnbull warned that tougher economic times loom for the nation, even as voters signal their discontent with his government.
"We have had a good run over the last 25 years of continued economic growth," Turnbull said in a speech in Canberra on Wednesday. "But the truth is that there are many parts of Australia where times are not so good, where jobs are scarce and prospects look less promising than they were."
Just seven months after leading his Liberal-National coalition government to a razor-thin election victory, Turnbull's bid to gain political momentum is being hampered by mounting signs of fiscal weakness. Third-quarter gross domestic product fell 0.5 percent -- the first decline in more than five years -- jobless figures are on the rise and a budget deficit that's threatening the nation's AAA rating is proving hard to budge.
That has taken a toll on his popularity. A poll published in December showed the main opposition Labor Party led the coalition by 52 percent to 48 percent on a two-party preferred basis. While Turnbull's rating as preferred prime minister was down 2 percentage points to 41 percent, he still led Labor leader Bill Shorten, at 32 percent.
Not Convinced
The tougher economic climate for Turnbull, who campaigned in the July election on his ability to produce "jobs and growth," comes as questions emerge about his political judgment and ability to push his legislative agenda through a Senate where cross-benchers collectively hold the balance of power.
"Voters don't seem convinced that the government has the capacity to create an agenda that will genuinely assist the economy and job creation," said Haydon Manning, a political analyst at Flinders University in Adelaide. "There's a growing opinion among average Australians that Turnbull doesn't have a strong vision for the nation and there's question marks over whether he will survive the year as leader."
With parliament resuming next week after a two-month hiatus, Turnbull used Wednesday's address to the National Press Club to highlight his government's plan to cut company taxes, which he said would give the average full-time worker an extra A$750 ($568) a year. The former banker also outlined a bid to overhaul funding of schools amid concern over declining student performance and a plan to make electricity more affordable.
"This isn't an abstract issue," Turnbull said. "Higher electricity prices mean more pressure on household budgets and businesses. That's why energy will be a defining debate in this parliament."
Turnbull also promoted the benefits of free trade, even after U.S. President Donald Trump ditched his nation's plan to join the Trans-Pacific Partnership.
"That is why, although disappointed by America's withdrawal from the TPP, we continue to work to open more markets for our exports with negotiations underway with India, Indonesia, the EU and in due course the United Kingdom," Turnbull said.
Refugee Deal
Asked about the status of Australia's deal for the U.S. to resettle asylum seekers detained in Pacific island camps, Turnbull repeated that Trump had given him a personal assurance. Hours earlier, White House Press Secretary Sean Spicer told reporters in Washington that the deal would go ahead, with the refugees subject to "extreme vetting."
"As you've heard from the president's own spokesman this morning, the Trump administration has committed to progress with the arrangements to honor the deal," Turnbull said. "And that was the assurance the president gave me when we spoke at the weekend."
Before it's here, it's on the Bloomberg Terminal.
LEARN MORE