Turnbull Rejects Claim He Bought Aussie Election With Donation
by
Australia's prime minister gave A$1.75 million to his party

Opposition styles former banker as out of touch with voters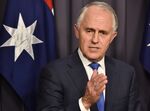 Australia's Prime Minister Malcolm Turnbull rejected opposition claims he used his wealth to buy victory in last year's election by making a A$1.75 million ($1.33 million) donation to his Liberal Party.
The former Goldman Sachs Group Inc. banker and tech entrepreneur revealed the donation late Wednesday, amid pressure from the Labor party to make the disclosure. Labor has styled Turnbull, who lives in a sprawling mansion overlooking Sydney harbor, as out of touch with average voters.
The issue is an unwelcome distraction for Turnbull as his government tries to set the political agenda for 2017 and deliver on a pledge to boost growth and jobs. The Liberal-National coalition government, which won the July election with a razor-thin majority of one seat, is trailing Labor in opinion polls.
"I've always been prepared to put my money where my mouth is," Turnbull, 62, told the Australian Broadcasting Corp. Labor leader Bill Shorten "wants to go after me all the time and he says I'm Mr. Harborside Mansion," the prime minister said.
Turnbull's background as a successful businessman before entering politics at the age of 50 is unusual in Australia, where lawmakers are often career politicians or come to parliament after working as ministerial advisers, or in party-affiliated roles. Turnbull and his wife Lucy have amassed a family fortune estimated by the Herald Sun newspaper in 2015 at A$180 million.
Rules in Spotlight
"He couldn't win an election on his merits so he got out his wallet," Jim Chalmers, Labor's finance spokesman, told ABC radio. "If he didn't have A$1.75 million to splash about he wouldn't be the leader of the Liberal Party and he wouldn't be the prime minister."
Australia's disclosure rules are in the spotlight amid criticism that only political donations above A$13,000 must be revealed and that there can be a year-long delay in information being published. Turnbull's contribution wouldn't have needed to be revealed for another 12 months because it was made after the cut-off date for the most recent disclosures.
Turnbull said Wednesday he would support moves to enforce more timely declarations.
Turnbull's Liberals received A$80.2 million in donations above A$13,000 in the 2015-16 fiscal year, compared with A$61 million for Labor, Australia Electoral Commission figures show. A total of A$188 million was donated to all parties.
Before it's here, it's on the Bloomberg Terminal.
LEARN MORE