U.K. Says Islamic State Could Use Trump's Travel Ban for Propaganda
By
Home Secretary: U.K. is monitoring effect on terror threat

Rudd: Ban could become 'example' for IS online recruitment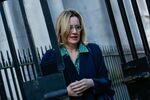 Islamic State could use Donald Trump's travel ban on nationals of seven mostly Muslim countries as propaganda to recruit more terrorists, according to the U.K. government official in charge of national security.
Islamic State will use "any opportunity they can to make difficulties, to create the environment that they want to radicalize people, to bring them over to their side, so it is a propaganda opportunity for them, potentially," Home Secretary Amber Rudd told lawmakers in London on Tuesday. "They may use this as an example, and we will continue to monitor it and take down the sites where we can."
Rudd's comments are the strongest rebuke so far from a British government official discussing the U.S. president's policy. Trump's temporary order to deny entry to the U.S. to nationals from Iraq, Syria, Iran, Libya, Somalia, Sudan and Yemen has prompted strong criticism around the world. British Prime Minister Theresa May, who met Trump in Washington last week, has been more muted, saying only that she doesn't agree with the policy and wouldn't replicate it.
In evidence to the British Parliament's Home Affairs Committee, Rudd described the travel ban as "divisive" and "wrong." Thousands of people attended protests against Trump outside May's 10 Downing Street office in London and in cities around the country on Monday. Rudd said she had informed her U.S. counterpart, Homeland Security Secretary John Kelly, of the strong reaction from the British people.
A petition calling on May to rescind an invitation to Trump to come to the U.K. for an official state visit has attracted 1.7 million signatures. It will be debated in the British Parliament on Feb. 20. 
Before it's here, it's on the Bloomberg Terminal.
LEARN MORE