Trump Spoils Pharma Chiefs With No More Bad News on Drug Pricing
By and
President promises to lower taxes, speed regulatory approvals

But Medicare price bidding is still up for negotiation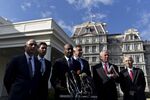 For drugmakers, Tuesday's meeting with President Donald Trump was a dose of happy pills.
Though there's still worrisome ambiguity on the subject, Trump appeared to back off the worst-case scenario for pharma companies -- the U.S. government won't be setting drug prices.
Drug company executives were also heartened by Trump's promises of lower taxes, quicker regulatory approval, and help defending them against foreign countries that are able to charge less because American consumers pay more.
There was, of course, some medicine to go with the spoonfuls of sugar. Trump insisted that, despite the higher costs, the companies shift manufacturing to the U.S.
Trump "could've been a lot harsher on them on pricing," said Jeff Jonas, a portfolio manager at Gabelli & Co. in Rye, New York. "It was generally good."
Immigration was a subject that at least one participant company said wasn't discussed at the meeting. A Trump executive order last week temporarily blocked citizens of seven countries from entering the U.S. Like many industries in need of highly skilled workers, pharma employs its share of foreign-born workers.
Labor Force
Thirteen percent of the U.S. population came from outside the country, compared with 17 percent of the pharmaceutical industry's labor force, according to 2014 data from the Institute for Immigration Research at George Mason University. Immigrants were even more represented among higher-skilled employees, with 33 percent of the total research-and-development workforce and more than 40 percent of the scientists.
Trump recognized that drug pricing was the topic foremost on the drug executives' minds. And though government-set prices may be off the table, he suggested that Medicare price bidding may still be a possibility.
"I'll oppose anything that makes it harder for smaller, younger companies to take the risk of bringing their product to a vibrantly competitive market," Trump told them. "That includes price-fixing by the biggest dog in the market, Medicare, which is what's happening. But we can increase competition and bidding wars."
Investors no doubt recalled Trump telling the drug executives on Jan. 12 that they were "getting away with murder" because of high prices, and figured Tuesday's meeting was an improvement. They pushed the Nasdaq Biotechnology Index 2.8 percent higher, the most since Nov. 9, the day after the election.
The U.S. doesn't directly regulate medicine prices, unlike much of the rest of the globe. Setting the cost is a murky process. List prices are set by drugmakers, rebates are privately negotiated with intermediaries and the out-of-pocket cost that customers pay at the pharmacy varies depending on whether or not they have insurance, and how good it is.
Generics Approval
Loosening up regulations would be welcomed by the industry, Ian Read, Pfizer Inc.'s chief executive officer, said Tuesday on a conference call announcing earnings.
"We've been advocating for a long time to speed up the approval of generics and remove the barriers to their approval," Read said. "That will help with drug prices."
As for shifting manufacturing to the U.S., it may be difficult for an industry that outsources 80 percent of its active ingredients and 40 percent of finished drugs.
Most active ingredients are made in India and China, where labor is cheaper. The U.S. Food and Drug Administration has found problems with factory workers there deleting data that may call into question the quality of the drug components. The FDA's workforce in those countries is so small that it hasn't inspected about one-third of the 3,000 manufacturing plants abroad, according to a Government Accountability Office report released in December.
Factory Automation
Moving factories to the U.S. is "not going to save money," said Craig Garthwaite, co-director of the Health Enterprise Management Program at Northwestern University's Kellogg School of Management. Besides, a lot of the industry is automated, and U.S.-based manufacturing is "going to be as automated as it can be."
Pharmaceutical Research and Manufacturers of America, the industry trade group also known as PhRMA, said stronger trade agreements and reforming the tax code "will translate to up to 350,000 new jobs over the next 10 years as a result of growth in the biopharmaceutical industry."
Pfizer, Allergan
Pfizer, the largest U.S. drugmaker, and Allergan Plc, whose CEO Brent Saunders has been outspoken on drug pricing, were missing from the White House meeting. Read blamed his absence on Tuesday's call with analysts during the meeting, though Eli Lilly & Co. CEO Dave Ricks attended the Trump sitdown the same day his company released results. Pfizer and Allergan's unsuccessfully tried a $160 billion merger that would've established its combined headquarters overseas, a maneuver known as an inversion that helps lower corporate tax bills. Allergan spokesman Mark Marmur declined to comment.
Among the other participants were Merck & Co. CEO Ken Frazier; Celgene Corp. Chairman Bob Hugin; Novartis AG CEO Joe Jimenez; Joaquin Duato, Johnson & Johnson's worldwide chairman of pharmaceuticals; Amgen Inc. CEO Bob Bradway; and Stephen Ubl, PhRMA's CEO.
"This is like an iron fist," Dan Mendelson, CEO of consulting firm Avalere Health and former associate director for health at the U.S. Office of Management and Budget, said of the Trump administration. "No one can dispute that this is front and center for the Trump administration and that they see this as a populist issue, that it will win them points."