Trump Pentagon Chief Mattis Seeks to Reassure Allies on East Asia Trip
By and
Mattis leaving Wednesday to visit South Korea and Japan

Japan's Abe to meet with Trump on Feb. 10 in Washington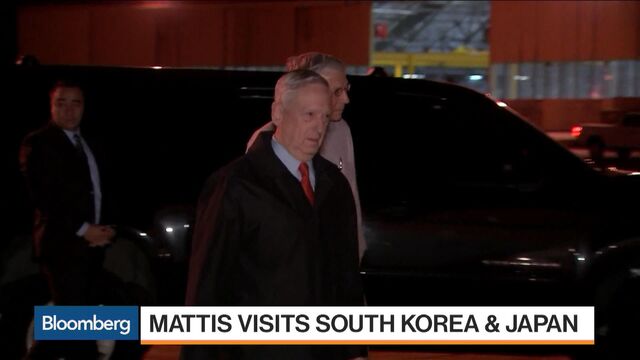 U.S. Defense Secretary James Mattis will seek to reassure allies worldwide they can still rely on an increasingly inward-focused U.S., as he heads to East Asia on the first overseas trip by a Trump administration cabinet member.  
The retired Marine Corps general leaves Wednesday for South Korea and Japan -- two of the U.S.'s closest allies -- amid questions about President Donald Trump's commitment to the region, having pulled out of a 12-nation Pacific trade deal and suggesting previously that Asian nations weren't paying enough for U.S. troops stationed in their countries.
Questions over ties with Tokyo and Seoul come against the backdrop of an increasingly belligerent regime in North Korea under Kim Jong Un. Pyongyang appears to be making preparations for another nuclear or missile test and has been advancing its weapons capability, with Trump saying he would not allow North Korea to threaten U.S. soil.
The trip will reverberate beyond those two key northeast Asian allies, said Patrick Cronin, senior director of the Asia-Pacific Security Program at the Center for a New American Security in Washington. "It's still very important to reassure allies at the time when there's so much uncertainty, turbulence, unpredictability," he said.
While the Pentagon downplayed expectations of any immediate shift in the U.S. military's approach toward the region or in its presence, Trump's style could throw doubt on assurances offered during the visit, according to Yoichi Kato, a senior research fellow at the Rebuild Japan Initiative Foundation in Tokyo.
"There is so much unknown and unpredictable in the Trump administration that it is hard to judge how far comments made by Secretary Mattis will be reflected in Donald Trump's policy," Kato said. "Trust in the U.S. as an alliance partner has already been damaged to some extent and Mattis's most important job on this trip will be to erase that kind of doubt."
South Korea hosts about 28,500 U.S. troops while Japan has 50,000.
For a QuickTake on North Korea's nuclear ambitions, click here
Mattis "wants to find out what their concerns are, learn more about the issues that we face together and prepare to address those," Pentagon spokesman Jeff Davis said. "He's primarily in listening mode right now." He said "the intent of this is not to roll out any big change in U.S. policy."
Nevertheless, Mattis's trip will be "high-level signaling" to key allies, Cronin said. It comes as Trump's pick for secretary of state, former Exxon Mobil Corp. chief Rex Tillerson, awaits confirmation by the Senate on Wednesday.
South Korea, the first stop, is facing turbulence after President Park Geun-hye was impeached over an influence-peddling scandal. Acting President Hwang Kyo-ahn spoke to Trump by phone Jan. 29, with the American president reiterating the U.S.'s "ironclad commitment to defend" it against North Korea. Trump said the alliance will be "better than ever before," according to a statement on the call from Hwang's office.
In addition to discussing joint defense capabilities, Mattis will meet with South Korean Foreign Minister Yun Byung-se to discuss North Korea.
By sending Mattis to South Korea first, Trump is delivering a message the U.S. will preserve its alliance and sending a warning to Pyongyang, said Baek Seung-joo, a former deputy defense minister who's a lawmaker with the ruling Saenuri party. The trip also sends indirect signals to China that the U.S. stands by a plan approved during the Obama administration to deploy in South Korea an antimissile system known as Thaad, which Beijing opposes, Baek said.
China Signals
"His visit will clarify and kill some blurry areas and extreme talks that have been hovering around before the start of the Trump administration," Baek said. "While Obama excluded chances of any military actions against the North, I think Trump will leave such chances, including a surgical strike, ambiguous."
U.S. allies and adversaries will also be watching for more direct signals toward Beijing. Trump has stoked fears of a trade war by threatening to label China a currency manipulator and weighing tariffs on Chinese goods. Meanwhile, Trump's choice for secretary of state, Rex Tillerson, suggested during a confirmation hearing that the U.S. would toughen its stance over China's island-building efforts in the disputed South China Sea.
Mattis's visit to Japan comes ahead of a Feb. 10 meeting in Washington between Japanese Prime Minister Shinzo Abe and Trump, the second between the leaders since his election win. The U.S.-Japan alliance, a bedrock of security in the Pacific region, has come under stress since Trump backed out of the Trans-Pacific Partnership trade accord shortly after taking office. Abe, a key advocate of the deal, has indicated he's open to bilateral trade talks between the U.S. and Japan.
'Unshakable' Alliance
"I want to hold frank discussions with Secretary Mattis about various issues and to make it a meeting that contributes to deepening and strengthening the alliance and making it unshakable," Japanese Defense Minister Tomomi Inada told parliament this week.
Japan will also be seeking assurances Trump will hold to the Obama administration's pledge to come to its defense if needed over islands in the East China Sea that are in dispute with China. China regularly sends planes and ships near the area, leading Japan to scramble fighter jets.
Some in Japan are worried about whether Trump will act on his campaign rhetoric about U.S. troops in the region, according to Itsunori Onodera, a former Japanese defense minister.
"There is concern among a section of the Japanese people because he has said that protecting allies, including Japan, costs a great deal of money," Onodera said. "We need to get things ready so that we are not in a panic if America's thinking suddenly changes."
— With assistance by Kanga Kong, and Takashi Hirokawa
Before it's here, it's on the Bloomberg Terminal.
LEARN MORE