Trump's Made-for-TV High Court Pick Draws 33 Million Viewers
By
President took steps to build suspense before announcement

Decision was carried live by all broadcast and cable networks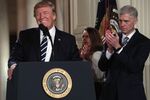 President Donald Trump's nationally televised announcement of his choice to fill the U.S. Supreme Court vacancy drew 33 million viewers across broadcast and cable networks, exceeding the number who tuned in for his predecessor's final State of the Union address.
Trump's nomination of U.S. Appeals Court Judge Neil M. Gorsuch to fill the vacancy left by the late Antonin Scalia was carried live by all major broadcast and cable networks. CBS led all networks with 7.97 million viewers, according to Nielsen data released Wednesday.

Trump took steps to build suspense for the announcement. He released an original list of 11 prospective justices in May, then a second list in September. The White House tried to keep the final decision shrouded in secrecy until last night. Previous high court nominations haven't been announced in prime time.
"So, was that a surprise?" Trump asked the White House audience after announcing his nomination.
Trump takes a particular interest in how many people watch his events. Earlier this month, he tweeted he was a "ratings machine" while commenting on how "The New Celebrity Apprentice" with Arnold Schwarzenegger wasn't drawing as many viewers as his version. He also argued with journalists about how many people went to his inauguration.
Among cable networks, Fox was the leader and second overall with 7.6 million viewers. Time Warner Inc.'s CNN was second among cable outlets at 2.1 million and Comcast Corp.'s MSNBC was third with 1.7 million.
The large audience shows public interest in Trump has remained high early in his administration as he fills key posts and stakes out controversial positions like his ban on travel to the U.S. by citizens of seven mostly-Muslim countries. That's bound to help broadcast and cable news operations that sell advertising against their coverage.
Before it's here, it's on the Bloomberg Terminal.
LEARN MORE