Trump's 'Carnage' Is Really Up to the States to Fix
The vast majority of criminal justice spending and policy occurs at the local level.
By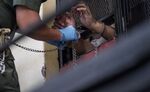 In early 2015, the MacArthur Foundation launched a grant program that would award millions of dollars to help local governments pursue criminal justice reform. Two years and almost 200 applications later, the nonprofit is still doling out money to municipalities seeking to reduce the number of people they jail.
The latest list of winners, announced Wednesday, include Durham County, N.C., which will create a system to text alerts to people facing prosecution in a bid to reduce "failure to appear" arrests, and Summit County, Ohio, which wants to divert people charged with low-level felonies from pretrial detention.
The big idea behind the program that awards the grants, called the Safety and Justice Challenge, is to help local governments reduce the number of people they jail. That's important, said Laurie Garduque, a director at the MacArthur Foundation, because jails, which exist for the purpose of holding violent offenders and flight-risks while awaiting trial, have come to serve as warehouses for people who can't afford to post bail.
"We're attempting to create a national movement around the need for front-end systems reform to eliminate the misuse and overuse of jails," Garduque said.
It's an interesting time to be engaged in the effort. The latest round of the grant program was launched in concert with a White House initiative to use data to break the cycle of incarceration. More broadly, then-President Barack Obama was interested in using his office to promote criminal justice reform—signing sentencing reform legislation, moving to reduce the federal government's dependence on controversial private prison operators, and commuting more sentences than any other U.S. president—achievements he highlighted by authoring a lengthy Harvard Law Review article published in January.
President Donald Trump is poised to take a different tack, promising a "law and order administration" that would empower police departments, threatening to "send in the feds" over the "carnage" wreaked by Chicago's murder rate, and tapping Republican Senator Jeff Sessions of Alabama for U.S. attorney general, a move that would put an official who has opposed federal sentencing reform in charge of the Justice Department. Shares in publicly-traded prison operators have surged on expectations that Trump's immigration countdown will boost profits.  
Regardless of how those efforts play out, the MacArthur grants serve as a reminder that state and local governments hold a lot of sway over the U.S. criminal justice system, since the vast majority of crime in America is policed at the local level and prosecuted in state court. There were just under 11 million admissions to local jails in 2015, according to the federal Bureau of Justice Statistics. That compares with 1.3 million inmates locked up in state prisons, and 196,000 in federal facilities.
Spending on police, courts, and corrections functions follows a similar theme. Local governments spent about $132 billion dollars on their justice systems in 2012, the most recent year for which federal statistics is available. States spent $86 billion, while the federal government spent $56 billion.
That's not to say the new administration can't affect the criminal justice system. Trump could try to stop further federal sentencing reform, or direct more funds to fight opioid addiction—a subject he highlighted on the campaign trail.
Even so, he'll likely come to learn a truth captured by Obama in his recent law journal article: "State and local justice systems tend to have a far broader and more pervasive impact on the lives of most Americans than does the federal justice system."
Before it's here, it's on the Bloomberg Terminal.
LEARN MORE