Trump Raised Record $6.5 Million in Weeks After Winning Election
By and
Campaign is still soliciting donations via text message

Trump sold Christmas ornaments, merchandise with slogans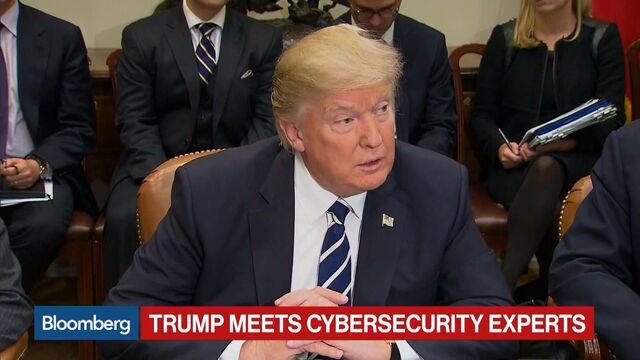 President Donald Trump's campaign finished last year with $16.1 million in the bank after pulling in a record $6.5 million after he'd already won, Federal Election Commission filings show.
Trump is still actively soliciting donations via the campaign's website and targeted text messages during a time when most new administrations pause fundraising and shift to governing. In the final 33 days of the year, Trump's campaign hawked Christmas ornaments emblazoned with his campaign slogan, as well as other merchandise commemorating his December thank-you tour and January inauguration.
The war chest gives Trump significant financial power for the start of his term. He could use the money in several ways: save it for a re-election bid in 2020; transfer it to the Republican National Committee; dole it out to favored candidates for the 2018 midterm elections; or give it all to a nonprofit that could, for instance, promote his policy agenda.
"The continued fundraising in January is pretty unusual. They clearly believe, with some reason, that they have a large group of small donors who will continue to contribute," said Bob Biersack, a senior fellow at the Center for Responsive Politics and a 30-year veteran of the FEC. "It may be as much about engagement as it is fundraising."
Trump's campaign had a small crew on the payroll in December, possibly to prepare for a re-election campaign. Politico has reported the effort will be run out of Trump Tower in New York, the same base for the 2016 campaign. Every two weeks, Michael Glassner, a Republican strategist and top campaign adviser, was paid $10,000; Sean Dollman, another top Trump aide, was paid $7,500; and John Pence, the nephew of Vice President Mike Pence, was paid $5,000, according to the filings with the FEC. 
The campaign's biggest expenditure -- $7.5 million -- was to a group called Conservative Connector for renting lists of potential supporters and donors, the filings show.
Money is already pouring into advocacy groups questioning Trump's agenda. The American Civil Liberties Union said it raised $24 million in two days after challenging Trump's order suspending immigration from seven predominantly Muslim countries. That surge was fueled in part by corporations: Alphabet Inc.'s Google put $2 million into a fund that its employees can also contribute to in an effort to raise $4 million for the ACLU, the International Rescue Committee and other groups that support immigrant rights.
On Trump's side, four of his campaign and transition aides, including digital director Brad Parscale and former deputy campaign manager David Bossie, this week launched the nonprofit America First Policies to "staunchly promote the White House's agenda." The group said its funding would be "significant," but it wouldn't accept donations from any federally registered lobbyists.
Trump raised more than double the amount that former President Barack Obama did during the final weeks of 2012, following his re-election. Obama started his first term with $20 million in the bank. The money remaining in Trump's committees is so-called hard money, the least restricted funds in politics.
The bulk of the late contributions came from small-dollar donors as Trump promoted his "Make America Great Again" merchandise at rallies and through online sales. He held a Black Friday sale, giving discounts on popular items in his online store the day after Thanksgiving.
Trump's campaign spent more than $290,000 at the president's hotels, golf courses and restaurants, according to the report. The biggest of those expenditures, for $130,888, was to Trump Tower Commercial LLC for "rent."
Trump put $61.1 million of his own money into his successful 2016 run, including $47.5 million he originally designated as loans, which he later forgave.
Before it's here, it's on the Bloomberg Terminal.
LEARN MORE