Roche Sees Profit Growth Hiccup as Old Drug Guard Gets Replaced
By
Cancer blockbusters to face competition in Europe this year

Tecentriq, Perjeta will drive sales, profit growth ahead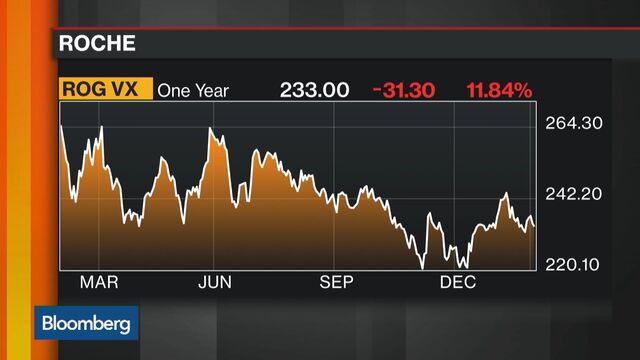 Roche Holding AG expects to dodge the worst of the fallout from the expiry of patents on its blockbuster medicines.
The Swiss drugmaker is rolling out new treatments such as the cancer immune therapy Tecentriq and wrapping up costly clinical trials for two experimental medicines to soften the blow from competition to its ageing cancer blockbusters. That means profit may rise at the same pace as sales this year, the Basel, Switzerland-based drugmaker said on Wednesday.

Chief Executive Officer Severin Schwan is heading into a make-or-break year in which new cancer drugs must show they can pick up the slack for Roche's older top sellers Rituxan, Herceptin and Avastin -- targeted tumor therapies that were revolutionary when they were first approved in the late 1990s and mid-2000s. For rivals Sanofi and AstraZeneca Plc, losing patent protection on crucial drugs has caused profit to decline.
"Our industry is about constantly rejuvenating the pipeline," Schwan said on a conference call on Wednesday. Roche has enough promising new medicines that "we can actually over-compensate for the decline of the mature products with the launch of the new medicines."
Revenue will probably rise by a low to mid-single digit percentage at constant exchange rates this year, the same pace as earnings per share excluding some items, Roche said in a statement. A year ago, it issued the same sales forecast but said core EPS would grow faster.
Cautious Company
Roche has a tradition of cautious guidance at the start of the year, and it's setting "achievable targets which we understand could potentially be upgraded later," Vincent Meunier, an analyst at Morgan Stanley in London, wrote in a note to clients. "We remain confident in Roche's ability to deliver."
The stock rose 1.8 percent to 237.10 Swiss francs at 12:16 p.m. in Zurich trading. Roche shares have declined 7.4 percent in the past 12 months including reinvested dividends, worse than the 1.3 percent decline in the Bloomberg index that tracks European pharmaceutical stocks.
A measure of profit labeled as core earnings per share, which excludes some expenses, rose to 14.53 francs ($14.66) last year from 13.49 francs a year earlier, falling short of the 14.73 franc average estimate of 22 analysts surveyed by Bloomberg, Roche also said Wednesday.
Schwan pointed to the cancer immune therapy Tecentriq as one of the growth drivers ahead. The company is competing with Merck & Co. and Bristol-Myers Squibb Co. to develop the best immune therapies, medicines that harness the body's own cells to fight cancer.
Tecentriq won U.S. regulators' approval in October for second-line lung cancer after being cleared for advanced bladder tumors in May. Sales last year rose to 157 million francs. Revenue from breast tumor therapies Kadcyla and Perjeta, key to maintaining leadership in a market long dominated by Roche's older treatment Herceptin, rose to 831 million francs and 1.8 billion francs, respectively.
Roche raised its dividend to 8.20 francs, less than analysts had expected. Currency fluctuations are to blame for recent changes in the payout, according to Schwan.
The company doesn't plan to sell its diabetes care unit, even though there's "enormous price pressure" in the industry, Schwan said. "It's a difficult situation we are going through, but we remain committed to this business."
In the U.S., where the cost of drugs has been criticized by President Donald Trump, the key is to deliver treatments that are game-changers, according to Schwan. "I am absolutely convinced the U.S. remains committed to innovation and remains committed to bringing innovation to patients as fast as possible," he said. He described himself as "bullish about the U.S. market."
Before it's here, it's on the Bloomberg Terminal.
LEARN MORE