Putin Seeks to Turn EU Sanctions Tide in Visit to Hungarian Ally
By and
Trump creates room for Hungary to engage Russia, minister says

Russian leader seen nudging Orban toward sanctions 'red line'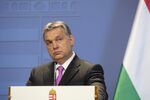 President Vladimir Putin will step up efforts to weaken support for economic sanctions against Russia in his first visit to the European Union since Donald Trump became U.S. president with a pledge to improve relations with the Kremlin leader.
Putin will arrive in Budapest on Thursday for talks with Hungarian Prime Minister Viktor Orban, one of Russia's strongest supporters in the EU and the first European head of government to back Trump.
Trump's rise, Britain's looming exit from the EU and pivotal elections in Germany and France this year, present Putin with his best chance yet to overturn the penalties. Those helped plunge Russia's economy into its longest recession in two decades, without first ensuring implementation of a peace accord to end the Ukrainian crisis. The EU extended sanctions in December until July 31 over Russia's 2014 annexation of Crimea and support for separatists in the conflict in eastern Ukraine that's flared into renewed fighting.
"Putin will try to draw Orban one step closer to the red line" in enlisting his support to block further EU economic sanctions the next time they're discussed, Andras Deak, a Budapest-based researcher at the Hungarian Academy of Sciences, said by phone. "While Orban is unlikely to want to dissent alone, he'll use the opportunity with Putin to rail publicly against sanctions."
Putin imposed a ban on imports of some food products from the EU in retaliation for the sanctions against Russian state-run banks, energy and defense industries. The measures have caused tens of billions of dollars in losses for exporters on both sides. The sanctions are ineffective and have caused "a lot of grief and damage" to Hungarian companies, Foreign Minister Peter Szijjarto told reporters on Wednesday.
'Personal Trust'
The Russian leader's visit to Budapest reflects the "good personal trust" between Putin and Orban, Kremlin foreign policy aide Yuri Ushakov told reporters in Moscow on Wednesday. "The Hungarians are playing a quite positive role in restoring ties with the EU," he said.
Orban, who until returning to power in 2010 had been wary of Russia's influence in eastern Europe, has criticized the sanctions. Still, he's always stopped short of using his veto -- the measures must be passed unanimously -- to stop the EU from renewing the measures, amid strong backing for the penalties from German Chancellor Angela Merkel, who negotiated the February 2015 peace accord with the leaders of Ukraine, Russia and France in Minsk, Belarus.
With Trump now in the White House and considering easing the U.S. restrictions, Hungary will have more room to engage Russia, Szijjarto told reporters on Jan. 27. Trump may meet his Russian counterpart before the next Group of 20 summit in July, according to the Kremlin.
'European Pressure'
"Whenever we've tried to work on improving our bilateral relationship, we've faced American pressure not to and European pressure not to," Szijjarto said. "Now what we can be sure about is that, as we try to further improve our relationship with Russia, there will be no American pressure not to."
Russia agreed in 2014 to extend 10 billion euros ($10.7 billion) to finance the expansion of Hungary's sole nuclear plant, which proved pivotal in changing Orban's relationship with Putin. The two leaders will discuss the start of the project, which has been held up by EU inquiries, Szijjarto said. Other issues on the agenda include the disputed leftover debt of defunct Hungarian state airline Malev to Russia's Vnesheconombank, and the possibility of connecting Hungary to the Nord Stream and Turkish Stream gas pipelines in the future, according to Ushakov.
Orban has been open in his admiration of Russia under Putin, citing it as a model for the self-described "illiberal state" that he's been building in Hungary by curtailing independent institutions and reining in civil society groups that don't agree with government policy.
Before it's here, it's on the Bloomberg Terminal.
LEARN MORE