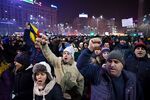 The European Union's second-poorest nation faces a new round of turmoil, a little over a year since popular outrage over corruption sank the prime minister. Romania's Social Democrats returned to power in December's election and quickly angered citizens by unexpectedly approving legal changes that represent a setback to the country's unprecedented crackdown on graft. In the biggest street protests since the fall of Communist rule in 1989, Romanians are demanding the resignation of the government.
1. Why are protesters on the streets?

Prime Minister Sorin Grindeanu's cabinet issued an emergency decree decriminalizing abuse-of-office offenses that result in less than 200,000 lei ($48,000) of damages. On top of that, it sought to halt prosecutions of public servants charged with abusing their positions in relation to passing or designing legislation. The government also backed a bill pardoning people serving prison sentences shorter than five years, excluding rapists and repeat offenders. The measures weren't listed in the public agenda of the after-hours cabinet meeting that approved them, raising questions over transparency.
2. Why would the government do that?
Officials said the steps will reduce prison overcrowding, for which Romania could face penalties from the European Court for Human Rights. The protesters saw the move as a means of freeing corrupt officials and shielding others from investigation -- like Social Democratic leader Liviu Dragnea, who's on trial for abuse of power after already being handed a suspended sentence for trying to fix a referendum. Prosecutors are currently working on more than 2,000 abuse-of-office cases.
3. How big is Romania's corruption problem?
It ranks fourth-worst for graft in the 28-member EU, according to Berlin-based Transparency International. That said, it can boast one of the bloc's most sweeping clampdowns of recent times. The initiative, akin to Italy's 1990s Clean Hands campaign, has sent more than 5,000 officials to trial since 2012, included a sitting prime minister and dozens of other cabinet members. Cases pursued by prosecutors in the past two years alone involve more than 1 billion euros ($1.1 billion) of damages.
4. How has the government responded to the protests?
Having initially refused to back down, the government eventually reversed course on the controversial measures. This did nothing to curb the protests, which saw a record turnout the following day. Justice Minister Florin Iordache has since resigned. While President Klaus Iohannis says the cabinet must go further, he's not calling for early elections at this stage.
5. Why aren't the protesters going away?
Some demonstrators still want the government and party head Dragnea to quit, while others want to ensure officials stick to their promises. Turnout has fallen from a peak of about 600,000 nationwide, though more than 70,000 showed up for the last big rally.
6. How is this affecting markets?

While the leu initially weakened the most against the euro in more than two years, it's since recouped that loss as the government adopted a more accommodating stance toward the protesters. S&P Global Ratings said risks to Romania's investment-grade status are currently balanced, though it warned that the turmoil could dent investor confidence and harm growth, which is set to be the EU's fastest this year.
7. Is this another of those populist uprisings?
Not really. Romania's strain of populism arguably came from the government itself in the form of tax cuts and state-salary hikes that won over voters in the run-up to last year's election. The Social Democrats' triumph in that ballot seems to have emboldened them to test the limits of their power, as administrations in Poland and Hungary have done. The EU has raised concerns over damage to democracy in those two places and is similarly worried about the government's actions in Romania.
The Reference Shelf
Before it's here, it's on the Bloomberg Terminal.
LEARN MORE