Toyota Paces U.S. Sales Decline as Carmakers Boost Discounts
by and
Fiat Chrysler, GM and Ford deliveries drop in January

'There is certainly weakness to start' the year, analyst says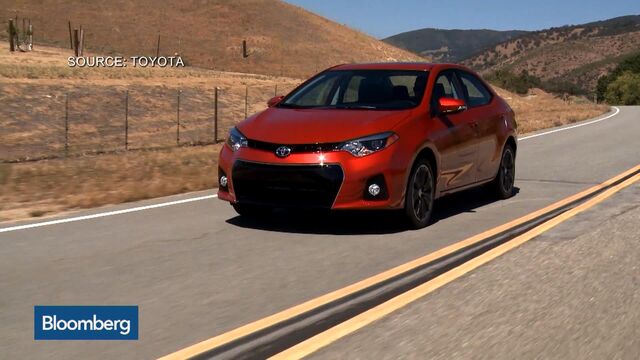 Toyota Motor Corp. led major carmakers reporting lower U.S. sales in January, even as an industry trying for another record year piled on discounts to keep showrooms busy.
Deliveries fell about 11 percent for both Toyota and Fiat Chrysler Automobiles NV. Sales also dropped for General Motors Co. and Ford Motor Co., pacing a 1.8 percent decrease for the industry in January, according to Autodata Corp.
Automakers spent about $645 more per vehicle on discounts, about $3,635 on average in January, according to ALG, which projects car and truck resale values. The industry relied on rich incentive offers and deliveries to rental-car companies and other fleet customers last year to seal a seventh straight year of expansion. Strong demand for pricier pickups and sport utility vehicles should ensure that automakers keep profits rolling.
"There is certainly weakness to start off the year," said Jeff Schuster, senior vice president of forecasting for LMC Automotive. "It's not unexpected given the overheating of sales, thanks to incentives in December."

Monthly sales slowed to a seasonally adjusted annualized rate of about 17.6 million vehicles, from 17.9 million a year earlier, according to Woodcliff Lake, New Jersey-based Autodata. The pace beat the 17.3 million average estimate among analysts and compares with 18.4 million in December, the best in more than a decade.
Inventory 'Bubble'
Automakers have turned to heavy incentive spending and production cuts to clear what one J.D. Power analyst last month called a "bubble of inventory." GM said in December it was permanently cutting about 3,300 employees at three U.S. car plants and temporarily laying off workers across five factories. Fiat Chrysler also trimmed output at two plants in Canada.
"Pay attention to inventories," Joe Spak, an analyst at RBC Capital Markets, wrote in a report to clients. "Whenever the market sees high inventory amid a 'plateau' demand environment, the sentiment skew on production direction tends to lean towards cuts."
Read more: Trump picks an unfortunate time to push new U.S. auto factories
GM fell 1.3 percent to $36.14 at the close in New York, while Ford dropped 0.3 percent and Fiat Chrysler declined 0.1 percent. Toyota slid 1.3 percent to 6,461 yen as of 9:23 a.m. in Tokyo trading, compared with the 0.1 percent decline in the benchmark Topix index.
'A Hangover'
"The year is opening with a bit of a hangover because of the extreme discounts we saw in December," said Michelle Krebs, senior analyst with car-shopping website Autotrader.com. "It's taking more incentives to move the metal."
The top gainer among large automakers last month was Volkswagen AG, which reported a 15 percent jump in combined sales of VW and Audi models. The Wolfsburg, Germany-based company is rebounding amid a buyback program that's luring consumers to dealerships to replace diesels that violated emissions laws.
Toyota's 11 percent plunge was the month's biggest surprise, as analysts had projected only a 2 percent drop. Sales of the Camry family sedan, which is being replaced by a heavily redesigned version in the coming months, fell 24 percent. Volkswagen surpassed Toyota as the world's largest automaker on a global basis last year for the first time.
Deliveries of Ford's F-Series, which is coming off the 40th consecutive year as the best-selling truck in the U.S., climbed about 13 percent last month.
Nissan's Rogue, which displaced the Altima sedan as the company's U.S. top-seller last year for the first time, surged 46 percent in January.
Ram pickup deliveries rose 3.7 percent, blunting the impact of Fiat Chrysler ending sedan production at two U.S. plants.
GM said it set a new January record for average transaction prices as it dialed back spending on incentives.
Used Glut
Analysts including Jessica Caldwell of Edmunds.com caution against viewing January sales results as a bellwether for how a full year will pan out. It tends to be the lowest volume month, accounting for about 6 percent of annual deliveries on average, according to Edmunds.
Carmakers will be pressured this year by a wave of vehicles returning to the used market after their leases end, which gives consumers a low-priced alternative to buying new cars, said Mark Wakefield, a managing director and the head of automotive at consultant AlixPartners. Off-lease volume will rise to about 3.36 million cars and trucks this year, after a 33 percent surge in 2016, J.D. Power said last month.
"The biggest factor we see affecting sales is used-car prices," said Wakefeld, who estimates industry deliveries will slip to about 17.3 million this year, from last year's record of 17.55 million. "Those cars will need buyers and they will find buyers."
Before it's here, it's on the Bloomberg Terminal.
LEARN MORE