Modi to Spend More on India's Poor With Eye on Polls
By and
Eases deficit target to 3.2% of GDP from 3%; survey est. 3.3%

May open room for central bank to cut interest rates Feb. 8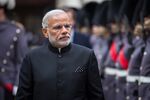 Prime Minister Narendra Modi offered tax cuts and boosted spending on some of India's poorest citizens hurt by his cash ban as he seeks to shore up support before pivotal state elections.
The budget shortfall is forecast to be 3.2 percent of gross domestic product in the year starting April 1, Finance Minister Arun Jaitley told lawmakers in New Delhi on Wednesday. While that would be smaller than the current year's 3.5 percent and economists' predictions of 3.3 percent, it's wider than the previous target of 3 percent. The government will seek to provide a record 10 trillion rupees ($148 billion) in loans to farmers, boost funds for a rural jobs program, and lower taxes for relatively low earners and small companies.
The measures cover the bulk of the population including in Uttar Pradesh, a crucial electoral state that votes this month, where results can embellish or scuttle Modi's 2019 reelection prospects. Better-than-expected public finances may open room for the central bank to lower interest rates.
"The Reserve Bank of India has mentioned the path of fiscal correction as a pre-requisite for a rate cut," said Priyanka Kishore, Singapore-based Asia economist at Oxford Economics. "So at the margin, it strengthens the case for a 25-basis point cut next week."

Most economists in a Bloomberg survey published last month predict Governor Urjit Patel will reduce the repurchase rate to 6 percent from 6.25 percent on Feb. 8, the final of seven cuts since January 2015. Lower borrowing costs can help support growth, which Jaitley's advisers said may dip to a four-year-low of 6.5 percent in the year through March.
Indian shares extended gains, with the benchmark gauge rising 1.8 percent in Mumbai. The rupee strengthened 0.6 percent to 67.4750 per dollar and the yield on sovereign bonds due September 2026 rose 2 basis points to 6.43 percent.
India Budget 2017: The Winners and Losers
Key points from the budget:
For the current year through March, the budget deficit is forecast at 3.2 percent of GDP compared with the previous 3.5 percent due to a surge in tax collections
The shortfall is forecast to shrink to 3 percent of GDP in the year through March 2019 instead of 2018
In the year starting April 1, total spending is forecast to rise 6.6 percent to 21.5 trillion rupees. Revenue is seen climbing 6.5 percent on a 13 percent increase in tax collections though non-tax revenue will dip
To borrow gross 5.8 trillion rupees, largely unchanged from the previous year
Budgets 615 billion rupees from asset sales; this is higher than the 455 billion rupees earned in the previous year when the government undershot its target by 20 percent
To treat low-cost housing as infrastructure; to build 10 million houses by 2019 for the homeless
Infrastructure allocations at a record 3.96 trillion rupees; rail capex 1.3 trillion rupees, 640 billion rupees on highways
To inject 100 billion rupees into state-run banks, compared with the 250 billion rupees set aside in the last budget
To cut tax on LNG imports to 2.5 percent from 5 percent to promote gas usage
Plans tax relief for overseas investors in some bonds
Plans to scrap the Foreign Investment Promotion Board, which has been criticized as a bureaucratic barrier that slows foreign direct investment
Tax rates cut for companies with turnover of less than 500 million rupees
Tax rates cut for people earning less than 500,000 rupees -- fiscal losses will be compensated by a proposed levy on those earning more than 5 million rupees
The income tax cuts can boost consumption while corporate tax reductions can increase tax compliance, said Ranen Banerjee, leader, public finance and economics, at PwC. Moody's Investors Service said revenue collections will be an indication of the effectiveness of demonetization and a national sales tax due to be implemented by September.
Facebook Live: Gadfly's Andy Mukherjee takes a look at the budget's winners and losers
"We expect the deficit targets to be achieved, although there will be limited room for slippage" in case of an economic downturn, said William Foster, vice president in Moody's sovereign risk group. "Measures that effectively foster higher foreign direct investment would be credit positive."
(
India's government corrects FY17 deficit figure in second paragraph.
)
Before it's here, it's on the Bloomberg Terminal.
LEARN MORE