Merkel's Challenger Leads Social Democrats to German Poll Boost
By and
SPD climbs to 26% in Forsa poll, chancellor's bloc at 35%

'Unlikely to derail Merkel,' Deutsche Bank analysts say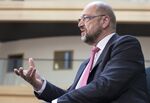 Support for Germany's Social Democrats jumped to the highest level in almost four years in a poll that underscores the party's revival after it picked Martin Schulz as Chancellor Angela Merkel's election challenger.
Buoyed by its choice of the former European Parliament president as candidate to unseat Merkel, the SPD climbed five percentage points to 26 percent, the most since the last election in 2013, while the chancellor's Christian Democratic-led bloc slipped two points to 35 percent, according to the weekly Forsa poll published Wednesday.

While all polls suggest Merkel's bloc will win the most votes, Schulz's surprise candidacy is mobilizing support for a party that's trailed her for more than a decade ahead of the Sept. 24 election. Schulz, 61, has indicated he'll run on a platform of reducing inequality and easing austerity in the euro area. He hasn't ruled out allying with the opposition Green and the anti-capitalist Left parties to lead a government and break out of the SPD's role as Merkel's junior coalition partner.
"A portion of former SPD voters who had joined the ranks of non-voters or the undecided have now found their way back," Manfred Guellner, managing director of Berlin-based Forsa, said in a statement Wednesday.
Polls suggest that leading a government would still be out of reach for Schulz's party if elections were held now. Forsa put voter support for the most likely option, an SPD-led government with the Greens and the Left, at 43 percent. The Merkel-led "grand coalition" with the SPD that's governed since 2013 has combined support of 61 percent.
Schulz's nomination is "likely to push the SPD's campaign but unlikely to derail Merkel," Deutsche Bank analysts in Frankfurt said in a research note on Monday.
The SPD would need "an enormous upswing in popularity" by about 7 percentage points or more to fundamentally alter Germany's electoral math, according to analysts Barbara Boettcher and Dieter Braeuninger. But if the Social Democrats boost their support enough to deny Merkel a possible alliance with the Greens, Schulz "would likely not resist" joining her in another installment of the "grand coalition," the analysts said.