Mattis Focuses on Military Readiness, Force Size in Budget Memo
By
New Pentagon chief outlines plans for 'more lethal' forces

Memo makes no mention of budget caps still in place until 2021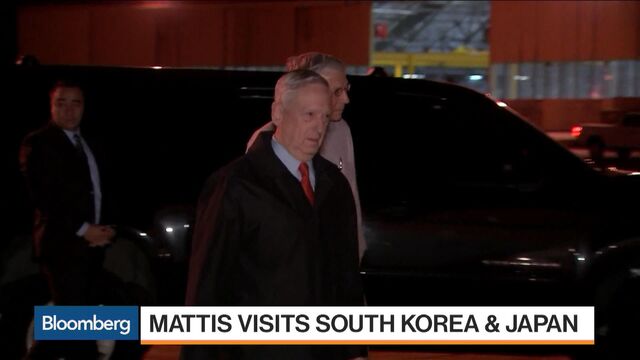 Defense Secretary James Mattis emphasized improving military readiness, increasing the size of U.S. forces and initiating what's become a staple for new Pentagon chiefs -- "an ambitious reform agenda" -- in the initial outline of his budget plans.
In a four-page guidance memo released Wednesday, Mattis echoed President Donald Trump in saying his goal is to build a "larger, more capable, more lethal joint force." The retired four-star general, who is en route to see allies in Asia this week, didn't spell out specific increases in weapons purchases.
The fiscal 2018 plan outlined in the document backs an approach calling for, "but not limited to," buying more critical munitions, funding facilities maintenance and advanced technology demonstrators and "growing force structure at the maximum responsible rate." That would follow the blueprint in an executive order Trump signed last week at the Pentagon.
Starting in the presidential campaign, Trump vowed to increase the Navy's fleet to 350 vessels from the 308 currently planned and adding tens of thousands of troops to the Army. Former Army Secretary Eric Fanning last month estimated the Army troop proposal alone would cost an additional $12 billion.
Budget Caps
Mattis's memo didn't address the obstacles to rebuilding the force posed by budget caps from the Budget Control Act from fiscal 2018 through 2021. The Pentagon faces about $106.6 billion in potential cuts from its current budget projections -- starting with $33.6 billion in fiscal 2018, $29 billion in 2019, $21.3 billion in 2020 and $22.8 billion in 2021.
Trump said he will push Congress to lift the defense caps, but no action has yet been taken.
The memo fleshed out potential timelines for an amendment to this year's budget that Mattis said will be aimed at addressing "immediate and serious readiness challenges" and "new requirements driven" by accelerating the campaign against Islamic State. The Pentagon will present a budget amendment to the White House's Office of Management and Budget no later than March 1 and a full plan for fiscal 2018 by May 1, "unless directed otherwise directed by OMB," Mattis wrote.
A June submission to Congress of the Pentagon's five-year plan starting in fiscal 2018 would be in keeping with the first complete budget President George W. Bush's administration, which was delivered in late June 2001, and the first defense budget of President Barack Obama, delivered in May 2009. Obama's first defense secretary, Robert Gates, previewed his defense budget in April 2009, shaking up the defense industry as he canceled or curtailed scores of weapons programs.
The Mattis memo leaves plenty of unanswered questions.
'Skinny Budget'
"There's talk of a 'skinny budget' this month," Mark Cancian, a former OMB budget analyst who's now with the Center For Strategic and International Studies, said in an e-mail. "Getting a statement of principles out would be relatively easy" but "getting numbers out in that document will be hard because that requires settling on policies for taxes, entitlements, domestic and defense," he said.
The exact timing of the first full Trump defense budget will be driven largely by OMB after its new director in place and staff are hired, former Pentagon Comptroller Mike McCord said in an e-mail. Representative Mick Mulvaney, Trump's pick to lead OMB, hasn't yet been approved in the Senate.
The Budget Control Act injects uncertainty that "is going to be an issue, perhaps more in passing a fiscal 2018 budget than in developing it," McCord said. But the military services "will want some certainty about future toplines and whether" the act is "going to be amended or repealed before committing to expensive long-term initiatives like increased force structure," McCord said.
Former Defense Secretary Ash Carter recognized his successor "would be highly pressurized in terms of time" to deliver a budget, Jamie Morin, the former head of the Pentagon's independent cost analysis office, said in an interview.
''We fully expect Secretary Mattis" will make adjustments and "some of them may be significant, Morin said. But "the program is thousands of choices and it is not reasonable to expect a new administration to carefully look at every one of those thousands of choices in just a couple of months," he added.
Before it's here, it's on the Bloomberg Terminal.
LEARN MORE