markets
Julius Baer Earnings Increase After New Money Boosts Assets
By and
CEO Collardi sees possibility of cost sharing with competitor

Cash waiting on sidelines for more clarity on U.S. policy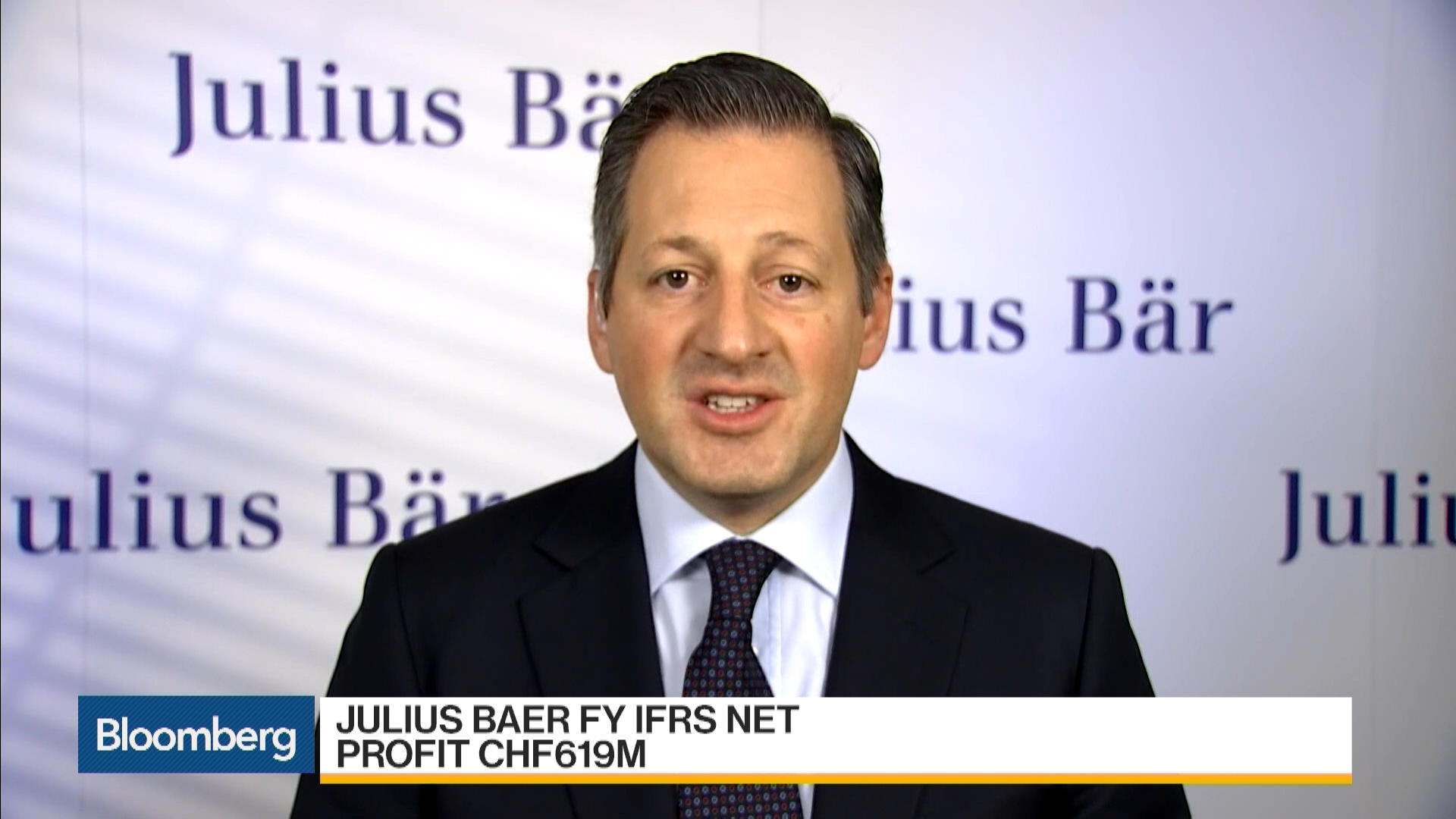 Julius Baer Group Ltd., reported full-year earnings that were ahead of estimates as new money and investment growth boosted assets and returns from lending climbed. The shares jumped to the highest in more than a year.
Operating income increased to 2.85 billion Swiss francs ($2.88 billion) from 2.69 billion francs a year earlier, the Zurich-based company said in a statement on Wednesday. That beat an average estimate of 2.79 billion francs by 19 analysts surveyed by Bloomberg.

"We've seen momentum in client interest and activity picking up," Chief Executive Officer Boris Collardi said in an interview with Bloomberg Television. "There is still lots of cash on the sidelines waiting for a clearer indication of how the U.S. will interpret its new role on the global scene."
UBS Group AG, Credit Suisse Group AG and Julius Baer, the top three Swiss money managers, are hoping to tempt clients out of cash and into investment products if the policies of U.S. President Donald Trump cause interest rates to increase as expected. The resultant stronger dollar would boost the value of their assets when translated into Swiss francs.
Julius Baer was up 1.74 percent at 47.05 francs as of 4:49 p.m. after gaining as much as 5.6 percent earlier. The stock has climbed 4.1 percent this year.
Operating income was boosted by a 23 percent rise in net interest income and dividend income as lending margins and returns on financial investment increased. Net commission and fee income climbed 3 percent to 1.57 billion francs as advisory and management commissions outweighed a drop in investment fund fees.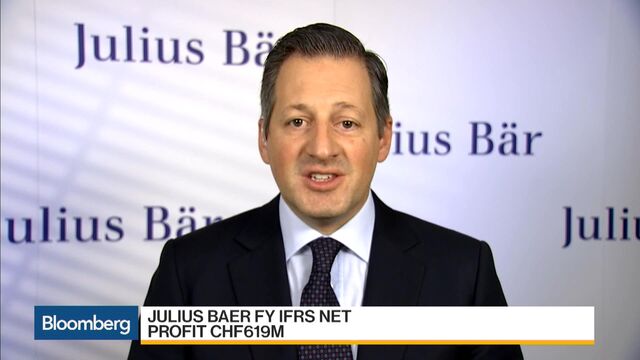 Adjusted net profit rose to 706 million Francs in 2016 from 701 million francs a year earlier. That includes a provision the bank took to pay for a fine to avoid U.S. prosecution for helping American clients to hide money from tax authorities.
As cost-to-income ratios rise in the financial industry, Collardi said Julius Baer is open for cooperation with other banks to share expenses in areas like research or other activities where there is no client data involved. Credit Suisse Group AG CEO Tidjane Thiam said in October that the bank would seek to share costs by joining services with a competitor.
"You can afford your own platform as long as you are growing. But what if you're not growing anymore?" Collardi said in a separate interview. "Bigger projects between big banks make intellectual sense, but it's complicated."
The company may hire relationship managers at three times its normal rate, the CEO said.
"The positive impact of the hiring on net new money and revenues will hopefully follow soon," said Andreas Venditti, a Vontobel analyst with a hold rating on the stock, noting that only the cost base has increased so far due to hiring.
New Money
Net new money increased by 4 percent, the lower end of the company's target range, according to the statement. "Net new money was strongly supported by inflows from clients domiciled in Asia, the Middle East and Western Europe (especially Monaco), which more than compensated for weakness in flows from Latin America and Central and Eastern Europe."
Assets under management rose to 336 billion francs from 300 billion francs a year earlier. Net new money added 12 billion francs and market performance boosted the total by 12.7 billion francs. The company proposed increasing the dividend by 9 percent to 1.20 a share, in line with estimates.
The gross margin narrowed by 2.5 basis points to 91 basis points as assets crew faster than operating income, according to the statement.
(
Adds CEO comment on cost sharing in eighth paragraph.
)
Before it's here, it's on the Bloomberg Terminal.
LEARN MORE