Jaitley Vows Prudent Spending for Rural India in Pre-Poll Budget
By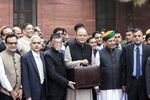 India will spend more in rural areas after advisers warned of a steep slowdown triggered by Prime Minister Narendra Modi's cash ban.
The government will seek to provide a record 10 trillion rupees ($148 billion) in loans to farmers in the year starting April 1, Finance Minister Arun Jaitley said Wednesday in New Delhi, while announcing the budget. He also boosted allocations for a guaranteed rural jobs program and an irrigation fund.
The government will still maintain "the best standards of fiscal prudence," Jaitley said.
Investors await the outlook on Asia's widest budget deficit and the first official assessment of Modi's unprecedented cash clampdown. While overspending could worsen public finances, any perceived stinginess risks enraging voters hit by the cash ban before key state elections.
Jaitley's advisers on Tuesday warned that official data may understate the impact of the ban as most Indian non-farm workers aren't covered by government statisticians. They see gross domestic product dipping as low as 6.5 percent in the year through March -- compared with a previous 7.1 percent forecast -- before rebounding next year.
Jaitley will ease the deficit goal to 3.3 percent of GDP in the year starting April 1 from 3 percent targeted earlier, according to most economists in a Bloomberg survey.