India Inc. Says Modi's Budget to Spur Consumption, Create Jobs
by and
Jaitley allocates $59 billion for infrastructure spending

Budget marks continuation of fiscal prudence, Moody's says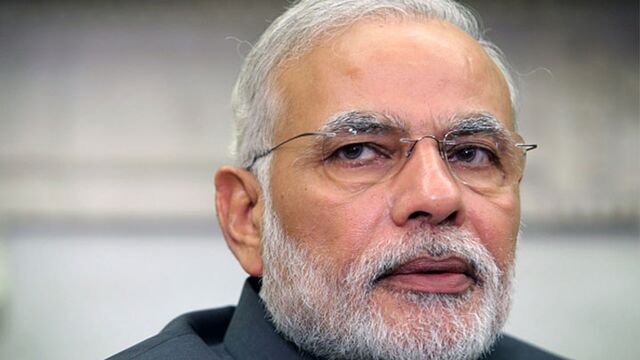 Indian Prime Minister Narendra Modi's budget sought to look beyond the government's move to invalidate 86 percent of the nation's cash and focus on growth by spurring consumption and adding jobs in a pro-rural, pro-poor budget.
Billions of dollars of spending on roads, housing, railways and the rural economy have been lined up to achieve his target. Finance Minister Arun Jaitley in the federal budget presented on Wednesday identified textiles, leather and tourism as sectors that will increase employment and promised to train workers in the industries.
Jaitley proposed amending and simplifying the nation's labor laws aimed at boosting manufacturing, while also raising allocations for a guaranteed rural jobs program and irrigation fund. The total infrastructure allocation for the 2018 financial year was proposed at 3.96 trillion rupees ($59 billion), including 640 billion rupees on building highways.
Key points from the budget:
The government shrinks the budget deficit to 3 percent of GDP in the year through March 2019 instead of 2018
Government to inject 100 billion rupees into state-run banks, compared with the 250 billion rupees set aside in the last budget
Tax relief planned for overseas investors in some bonds
Tax cut on LNG imports to 2.5 percent from 5 percent to promote gas usage
Plans to amend rules on drugs and cosmetics to lower drug costs, ensure use of generics
Eases long-term capital gains tax for property
Plans to cut tax rate for small and medium enterprises to 25 percent from 30 percent
India Inc.'s view on the budget
"Almost half the budget is dedicated to rural areas, which should certainly have consumption growth happening in the rural areas," said M S Unnikrishnan, managing director of Thermax Ltd. "Should be good for consumption-oriented industries like automobiles, beverages, textiles. All of them should do better."
"The ten focus areas that the finance minister spoke about are bang on," said Rakesh Bharti Mittal, vice chairman of Bharti Enterprises Ltd. Agriculture and rural-sector spending are really important, he said.
"Overall investment-pro strategy of the finance minister is going to be beneficial, both to rural India as well as to boost infrastructure," said Amritanshu Khaitan, managing director of Eveready Industries Ltd. "Rural electrification will be positive for Eveready's growth in lighting. I think the thrust on electrification will help our LED business grow."
"The government have put in all the required ingredients to incentivize urban decongestion and the development of new industrial cities around our industrial transport corridors," said Joe Verghese, managing director at consulting firm Colliers International India. "Granting infrastructure status to affordable housing will provide a boost in volume of construction activity across the country."
"It is a budget, I would say, designed for job creation and creating investment because 96 percent of organized sector is small and medium," said Sumit Mazumdar, chairman and managing director of Tractors India Ltd.
"The budget strikes a positive tone overall, with the government doing a fine act of sticking to fiscal consolidation while focusing on key initiatives like agriculture and infrastructure spending," said Priyanka Kishore, lead Asia economist at Oxford Economics in Singapore.
"He's done significant amount of work on infrastructure area and also agriculture, skills education, on innovation, so it's a good budget," said Sunil Kant Munjal, chairman of Hero Corporate Service Ltd.
On the government dismantling the Foreign Investment Promotion Board, "given most sectors are under automatic route, FIPB was losing its significance," said Aakash Choubey, partner at law firm Khaitan & Co. The "move to abolish it is positive and may give a fillip to FDI, but a lot will depend on a consistent roadmap that government should lay down."
Several economists gave the thumbs-up to the finance minister's efforts to rein in the fiscal deficit.
"The overall fiscal deficit looks better-than-expected," said Hirofumi Suzuki, an economist with Sumitomo Mitsui Banking Corporation. "The government showed the fiscal consolidation stance with the expansion in infrastructure spending."
Moody's Investors Service said India's budget marked a continuation of fiscal prudence. The ratings company expects the deficit targets to be achieved, although there will be limited room for slippage.
It is a sensible budget and the fiscal deficit number was unsurprising, said Jahangir Aziz, the Singapore-based chief economist at JPMorgan Chase & Co.
"Fiscal prudence together with focus on infrastructure spending should be positive for medium-term growth," said Deepali Bhargava, Asia economist at Credit Suisse Group AG.
"It was very impressive to see the Indian government maintaining a path of fiscal consolidation," said Charu Chanana, an economist at Forecast Pte in Singapore. "Despite headwinds from demonetization and the upcoming state elections, blatant sops were not delivered."
The government resisting the temptations to unveil populist schemes is a welcome move, said Ashish Kumar, economist and senior manager of strategic planning at Adani Group.
The finance minister's lack of corporate tax proposals disappointed some experts.
"There was an expectation of an across-the-board reduction in corporate tax," said Abhishek Goenka, a partner at PricewaterhouseCoopers India.
The budget was muted and lacked measures to improve banking sector asset quality, said Sumedh Deorukhkar, senior economist for emerging Asia at BBVA in Hong Kong.
Before it's here, it's on the Bloomberg Terminal.
LEARN MORE