Luxury Travel
How to Find the Best Travel Agent and Other Road Warrior Hacks
Kiwi fashion designer Karen Walker is no stranger to crossing a time zone or 12. Here's how she always arrives fresh and finds her calm.
By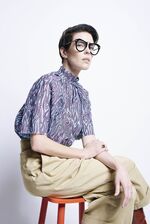 At Bloomberg Pursuits, we love to travel. And we always want to make sure we're doing it right. So we're talking to globe-trotters in all our luxury fields—food, wine, fashion, cars, real estate—to learn about their high-end hacks, tips, and off-the-wall experiences. These are the Distinguished Travel Hackers.
Fashion designer Karen Walker logs some 155,000 air miles annually overseeing sales of her privately held label in more than 1,000 stores across 40 countries—although traveling has always been in her blood. Her father had the first travel agency in New Zealand. Here she lets us in on a lifetime of advice.
To banish jetlag, take your pills—then find your calm.  
You only get an hour back per day from jetlag, so if you cross 12 time zones—as is often the case traveling from New Zealand—it takes 12 days to recover. So I force myself to sleep on planes with sleeping pills. I think of it like this: Just take a pill, dude, because you're going to be a mess at the other end if you don't.
Then the first thing I do when I get to the hotel after checking the view is to unpack everything, shower, and do my yoga practice. I always take my yoga mat and a yoga strap, no matter where I'm going. I've got a Nike one I bought 20 years ago, and it's still awesome. Lots of hotels have yoga mats, but I don't like sharing where other people's feet have been.
I also love city center parks, whether Regents Park in London, or Yoyogi Park in Tokyo, or the Botanical Gardens right by the Opera House in Sydney. A dusk walk through a city park gives you an immediate sense of calm. Go into the lungs of the city, and there's not too much to excite you. Seeing lots of greenery is very calming.

Or just buy this specific souvenir:
Bookshops are a place to calm the mind after a big flight—it's a meditative thing for me to do, just pottering around, talking to people who work there and find something new. In most cities, it's the first thing I want to do. I'll make sure I have an hour or so—whether Book Soup in L.A., Heywood Hill in London, or Unity Books in Auckland. I know it's stupid to buy books, which are heavy and take up room in a suitcase, but I love it. My brother even owns a bookshop, in a little town called Wigton in Scotland. He's psychiatrist by day, but he and his husband have a little shop and café there, Beltie Books. It's a place with a population of about 800, but it must have 60 or so secondhand bookshops. It's nutty.
How to find the best travel agent:
I have used the same travel agent for 20 years—I can ring her up at 3 a.m. [key if you're halfway around the globe], and it's not a drama. She's a crucial part of my world, whether family holidays or work stuff. If you want to work with an agent, though, don't just rock up and hire the one nearest to where you live. Give them a really tricky itinerary as a test: you need to be in Hong Kong at a certain time, then in London for a few nights, and back to Sydney by such and such a time—and want to pay for all of it on air miles. Give them that complicated itinerary and see how they cope with that. Then you'll know.
Collect those passport stamps wisely:
Most of what I've learned about travel, I learned the hard way, firsthand—like the fact you should ask immigration officers to stamp a page of your passport, which already has stamps on it. You might need those extra pages.  I was going to both Russia and Ukraine and needed visas, big visas, which take up a whole page. I ended up having to get a new emergency passport in 24 hours and fly around to get the right visas.
And always bring your own umbrella:
I hate hotel umbrellas—they're always too big, too flimsy, and often with a hotel logo. Nothing screams tourist more than a hotel logo on a brolly—it's just a bit uncool. My Blunt XS Metro fits in a carry bag, is very wind-resistant, very resilient and does the job effectively and elegantly.
What one thing the best hotels have in common:
Have you ever noticed how they never play any music in the lobby of the Chateau Marmont? The best hotels have some sense of quiet. I walk into a hotel room and immediately critique a list of 25 things they should do better—it drives my husband bonkers. I look at the amount of space in the bathroom: Is there enough for all my creams and potions? If not, it's been designed by a dude. Lighting is super-important, too—no overhead lighting and lots of dimmer switches. The best hotel I've ever stayed in was the Upper House in Hong Kong. I wanted to move in. There was absolutely nothing on my [critique] list.
She's loyal to New Zealand's national airline for an unusual reason.
When I was a kid in the 1970s, Air New Zealand used to hand out boiled lollies at the end of the flight, which you could suck so your ears didn't hurt as you descend. They'd usually give the basket of lollies to a kid in the cabin to hand out, which I loved doing. Now my daughter does it—she always asks, 'Can I hand out those lollies?' and they give you a little cap and an apron to wear as you walk up and down the aisles.
What's a destination everybody should see?
For the last 15 years, we've taken a family holiday every October in Fiji, which is super close to New Zealand. I can leave my front door at 7 a.m. and be on the beach in my bikini by 1 p.m. We go to the same little island, called Vomo, where there's just one hotel, with 20 villas. When it's a child-free holiday, my absolute favorite spot there is Dolphin Island.
I'd also tell anyone to go to Odessa in Ukraine, which is where my husband is from. It's on the Black Sea and was basically built by Catherine the Great out of sandstone—French architecture with some Russian notes overlaid. Stay as centrally as possible, close to the Opera House, and walk through the parks or along the beaches.
Before it's here, it's on the Bloomberg Terminal.
LEARN MORE