By Picking Gorsuch, Trump Puts Scalia Disciple on Path to Supreme Court
By and
Conservative nominee hails late justice as 'lion of the law'

Trump choice backs religious freedom, curbs on class actions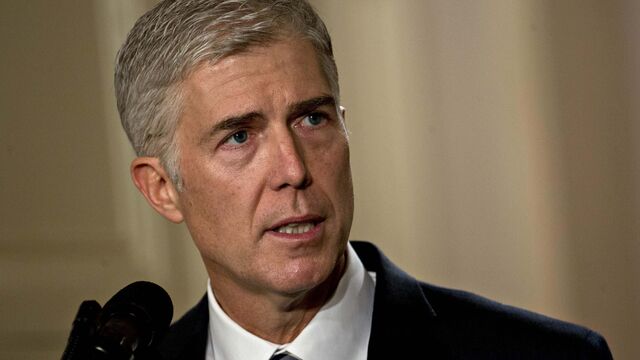 In the weeks after Antonin Scalia's death last year, Judge Neil Gorsuch hailed the conservative icon as a "lion of the law" who transformed how judges think.
Conservatives are now betting that Gorsuch, the 49-year-old appellate judge who is President Donald Trump's pick for the U.S. Supreme Court, will be a worthy disciple to Scalia and won't veer to the left like some previous Republican nominees.
"In our legal order it is for Congress and not the courts to write new laws," Gorsuch said Tuesday night to a White House crowd that included top Republican lawmakers. "It is the role of judges to apply, not alter, the work of the people's representatives."
In accepting the nomination, Gorsuch repeated his description of Scalia from his April 2016 speech about the late justice. Gorsuch's public record gives every indication he will follow -- and perhaps extend -- Scalia's path, assuming the nominee is confirmed by the Senate.
He ruled that a corporation could claim a religious exemption to the Obamacare contraception-coverage requirement. He argued for curbing class-action securities-fraud suits. He wrote a book arguing against legalization of euthanasia and assisted suicide.
QuickTake on U.S. Supreme Court
He would join a Supreme Court that is sharply divided on questions of abortion, racial discrimination, campaign finance and gun rights. With cases involving voter-identification laws, political gerrymandering and mandatory union fees making their way to the court, his views could begin having a significant impact on the law in a matter of a year or two.
Republicans are aiming to have him confirmed in time for the court's last round of arguments in late April. The court hasn't yet set its schedule for that session but could hear a church-state case from Missouri and a class-action case involving Microsoft Corp.'s Xbox consoles.
Gorsuch, a Colorado native who has degrees from two Ivy League schools and Oxford University, has shown signs he could emerge as an intellectual leader on the court.
In a 2016 opinion, he took Scalia's approach toward statutory interpretation -- reading the words literally without regard to the underlying intent of the lawmakers -- a step further than even Scalia did.
Deferring to Agencies
Ruling against a Mexican man trying to avoid deportation, Gorsuch said federal judges should stop letting administrative agencies have the final word on the meaning of ambiguous statutes like the Clean Air Act. Gorsuch called for overturning the 1984 Supreme Court decision that requires judges to defer to agencies.
That decision and a later ruling "permit executive bureaucracies to swallow huge amounts of core judicial and legislative power and concentrate federal power in a way that seems more than a little difficult to square with the Constitution of the framers' design," Gorsuch wrote.
A study led by Mercer University law professor Jeremy Kidd concluded that Gorsuch is the second-most similar to Scalia of the 21 prospective justices on the lists Trump released during the campaign. That includes a belief that the Constitution should be interpreted in accordance with its original meaning.
The similarities also include a wariness toward criminal statutes that are so broadly worded they don't provide notice of what type of conduct might invite prosecution.
Choosing Targets
"What happens to individual freedom and equality when the criminal law comes to cover so many facets of daily life that prosecutors can almost choose their targets with impunity?" Gorsuch said in a 2013 speech to the Federalist Society.
Still, the Colorado native is no "clone" of Scalia, said John L. Kane, a federal district judge in Colorado who was appointed by Democratic President Jimmy Carter. Kane says Gorsuch is as intellectually rigorous as any sitting judge.
"Does he come out with decisions that are compatible with what conservative Republicans like? I'd say yes, but that's not the reason why," said Kane, who knew Gorsuch's father and grandfather, both Denver lawyers. "You will see in his opinions both sides, and you will see them expressed better than you will find elsewhere."
Gorsuch has indicated he could be sympathetic to business interests, criticizing class-action lawsuits as a private lawyer at the law firm Kellogg Huber in Washington.
Meritless Lawsuits
He argued in a 2005 paper for the conservative Washington Legal Foundation that companies facing meritless securities-fraud lawsuits had been pressured into settlements that benefited investors' lawyers more than their clients.
Trump promised during the campaign to appoint anti-abortion justices. Gorsuch has never directly ruled on abortion rights, but in a 2006 book he argued against the legalization of assisted suicide and euthanasia.
He described one chapter in the book as "an argument for retaining existing law on the basis that human life is fundamentally and inherently valuable, and that the intentional taking of human life by private persons is always wrong."
Gorsuch has a reputation as a crisp and at times provocative writer. In a 2015 opinion involving the interpretation of a federal law that increases the penalties for gun-related crimes, he diagrammed a sentence to help make his point.
'Radical Legal Views'
Liberal groups opposing the nomination say Gorsuch's positions make him unfit for the nation's highest court.
"Once the American people realize the practical consequences of his radical legal views on safe drinking water, on safe food and drugs, fewer rights for workers, less protection for consumers and investors, we're confident the public will realize that this is not an individual who deserves a lifetime appointment to the Supreme Court of the United States," said Dan Goldberg, legal director at the Alliance for Justice.
To that criticism, Gorsuch himself might have an answer, expressed in a 2005 National Review article that said liberals are more focused on winning lawsuits than elections.
"American liberals have become addicted to the courtroom relying on judges and lawyers rather than elected leaders and the ballot box, as the primary means of effecting their social agenda," Gorsuch wrote.
Read More:
Gorsuch's nomination marks the start of what promises to be a contentious confirmation fight
How Trump's team kept Gorsuch's selection a secret
Before it's here, it's on the Bloomberg Terminal.
LEARN MORE