Germany Inc. Touts Benefits of Trade After Trump Dumps on Euro
By and
BMW, Lufthansa, Siemens CEOs stress perils of protectionism

"Free trade has made this U.S. success story possible"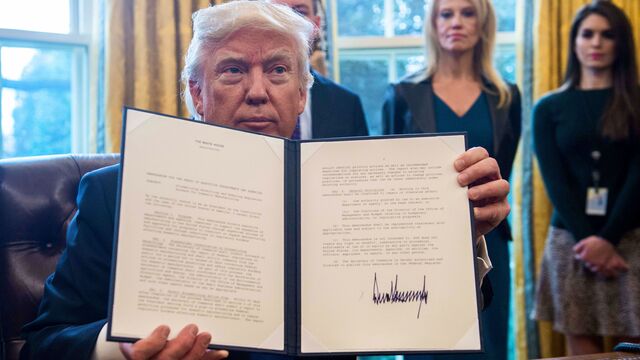 With Donald Trump stepping up criticism of Germany's colossal trade surplus, the country's business leaders say there's a problem with the new president's "America First" policy: U.S. consumers and workers are the likely losers from many of his proposed restrictions.
Chief executive officers from BMW AG, Deutsche Lufthansa AG, and Siemens AG all emphasized the perils of protectionism in comments Wednesday, after a top Trump administration official criticized German trade policies. In an interview with the Financial Times, Peter Navarro, the head of the White House National Trade Council, called Germany's surplus a sign of a "grossly undervalued" currency.

The comments drew immediate censure from Chancellor Angela Merkel, who noted Tuesday that the European Central Bank is responsible for the euro, and that the German government has long upheld the ECB's independence. Corporate leaders quickly jumped in, highlighting the benefits of free trade.
At an auto-industry conference Wednesday, BMW chief Harald Krueger stressed the importance of the U.S. to his company in terms of both sales and production. The company's factory in Spartanburg, South Carolina, its largest anywhere, is being expanded to an annual capacity of about 450,000 sport utility vehicles. Krueger said BMW and its suppliers employ 70,000 people in the U.S. and that the company exports 70 percent of its American production -- vehicles valued at some $10 billion last year.
"Free trade has made this U.S. success story possible," Krueger said at the CAR-Symposium in Bochum, Germany. BMW seeks to locate its factories "in a balanced way internationally. This safeguards continuity in volatile times."

Germany ran a current account surplus -- the balance of goods, services, and capital transfers -- of about $310 billion last year, according to estimates by the Center for Economic Studies, a research group in Munich. The U.S. is the biggest importer of German goods, buying some $125 billion worth in 2015. And Germany is the No. 4 foreign market for U.S. companies, which in 2015 exported $50 billion in products to the country.
Lufthansa CEO Carsten Spohr, speaking in Abu Dhabi where he announced a series of projects with Gulf carrier Etihad Airways, called the airline industry "the good guys of globalization" and said his company remained committed to free trade.
"The more protectionist elements around the world come up, the more aviation has to play its role to open up the world," Spohr said.
And Joe Kaeser, CEO of industrial giant Siemens, cautioned against the rising tide of populism worldwide, saying his company is a net exporter from the U.S., with more than 60 factories employing about 50,000 people.
"It worries me that we're hearing sentiment that doesn't fit the U.S.," Kaeser said at the company's annual shareholder meeting in Munich. "You ask yourself does that fit a country that stands for freedom and openness? America became great through immigrants."
Read more: The debate over free trade -- a QuickTake explainer
BMW, which is building a $1 billion factory in Mexico to produce as many as 150,000 of its 3-Series sedans annually, was singled out by Trump last month in an interview with a German tabloid. Trump told Bild Zeitung that the automaker could face stiff tariffs on vehicles produced there. 
"I would tell BMW, if they want to build a factory in Mexico and sell the cars in the U.S. without paying a 35 percent tax," Trump told Bild, "then they can forget about it."
— With assistance by Rainer Buergin, Deena Kamel, and Chris Reiter
Before it's here, it's on the Bloomberg Terminal.
LEARN MORE