Ex-UN Chief Leaves Race for Korea Presidency, Boosting Moon
By
Ban Ki-moon had been among favorites to replace Park Geun-hye

His brother and nephew had been charged with bribery in U.S.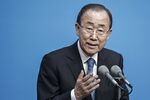 Former United Nations Secretary-General Ban Ki-moon has decided against running for president in South Korea, making key opposition figure Moon Jae-in the clear frontrunner to become the country's next leader.
Ban had been running second in polls to succeed President Park Geun-hye, who was impeached in December over an influence-peddling scandal. Since returning to South Korea last month, he had called for an overhaul of South Korea's political system ahead of an election anticipated later this year.

"I was very disappointed by some politicians' obsolete and narrow-minded" behavior and "decided that siding with them is meaningless," Ban told reporters in Seoul on Wednesday. "Reflecting on this, I decided to abandon my pure will to take a lead in changing the politics and uniting the nation."
Ban's decision opens the door for opposition figures who favor reducing the influence of South Korea's family-run conglomerates in Asia's fourth-biggest economy. While Ban hadn't formally aligned with a political party, he was the best hope for conservatives to retain power after Park saw her approval ratings plummet.
Moon smiled and said the news was "unexpected" after hearing about Ban's departure from the race while he left a local debate on Wednesday.
"I was expecting a good competition with him, so I feel sorry," Moon said, adding that he would seek advice from Ban on diplomacy.

Moon's opposition Democratic Party of Korea had stepped up pressure in recent weeks for Ban to clarify allegations that he took a $230,000 bribe from a businessman a few years ago, saying his earlier denial based on his diary doesn't make any sense. It also criticized him after U.S. prosecutors charged his brother and nephew with participating in an international bribery scheme over payments related to the sale of a skyscraper complex in Vietnam.
In the hastily arranged press briefing on Wednesday, Ban said that over the past three weeks he had been subject to "defamation close to personality murder." Without elaborating, he said the attacks "left a big scar on me, my family and the United Nations where I devoted myself for the past 10 years."
Moon Surge
Moon, the runner-up to Park in 2012, had started pulling away from Ban in recent polls. He had the backing of 32.8 percent, compared 13.1 percent for Ban, in a Jan. 30 survey by Research & Research on behalf of Segye Ilbo newspaper. Lee Jae-myung, the mayor of Seongnam city near Seoul, was in third place, followed by Ahn Hee-jung, the governor of South Chungcheong province and acting president Hwang Kyo-ahn -- another favorite of conservatives.
If the Constitutional Court approves Park's impeachment, an election will be held within 60 days. If she survives, an election will be held in December this year before her single five-year term comes to an end in February 2018.
"Before returning to Korea, Ban looked like a Messiah to the conservatives who didn't have any other options for a special election, but in the process of a political verification, new allegations started to emerge almost every day," said Lee Jae-mook, who teaches political science at Hankuk University of Foreign Studies in Seoul. "He probably realized that he was too naïve."
(
Updates with Moon's comments in fifth paragraph. An earlier version corrected the timing of the election and charges against his brother.
)
Before it's here, it's on the Bloomberg Terminal.
LEARN MORE