Dollar Sheds Gain as Fed Signals No Rush for Next Hike
By
FOMC highlights 'improved' business and consumer sentiment

Fear of getting 'sideswiped' deters large positioning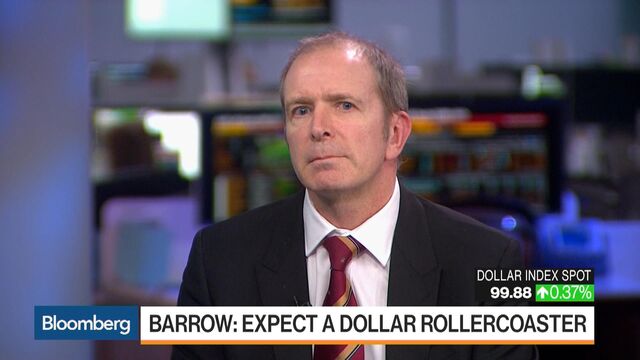 The dollar relinquished gains after the FOMC left rates on hold and failed to provide any clues for the timing of the next rate increase.
The Bloomberg dollar index was little changed, relinquishing its first gain for the week after gaining as much as 0.4% on stronger-than-expected ADP jobs and ISM manufacturing data. The greenback appeared to be trying to find equilibrium amid muted and erratic foreign exchange flows that pushed the euro initially to a fresh low at 1.0732 while dollar-yen fell back to below 113.00 after the Fed announcement.
After heavy dollar selling Tuesday to levels that a few weeks ago were deemed attractive for dollar buyers, an air of caution surrounds the market for now, traders said. "Nobody wants to build up a large position for fear of getting sideswiped by a headline," said a trader in Toronto who asked not to be identified because not authorized to speak publicly.

Trading flows were more muted Wednesday after dollar selling resembling capitulation on Tuesday, "as the last of the USD bulls got washed out" after remarks on FX from a Trump adviser and the president himself, a trader said.
Traders are still trying to assess whether those remarks are the start of a fresh round of verbal intervention to weaken the dollar or just accidental fallout that can happen with a new administration. Commentary on currency levels has traditionally been the purview of the Treasury secretary, with the president holding above the fray.
EUR/USD fell to a fresh low before bids positioned below 1.0730 cushioned the drop; the pair then snapped back to 1.0783 before subsiding as traders dissected the Fed statement
EUR buying interest said to extend to 1.0710 and tech support may be found at 1.0685 from the Tuesday low
USD/JPY trading at ~113.00 vs a fresh high at 113.95 set earlier in the day; the pair dropped to below 113.00 after the Fed decision, with bids at the figure briefly cushioning the drop
GBP/USD rose to a fresh high in afternoon trading after the U.K. Parliament rejected an SNP amendment to the Brexit bill, effectively allowing the bill to move forward; GBP had seen strong buying vs USD and JPY during the session, traders in London said
Before it's here, it's on the Bloomberg Terminal.
LEARN MORE