Brexit Bulletin: The Price of Article 50
May's critics demand a greater say over Brexit, particularly if talks start to go wrong.
by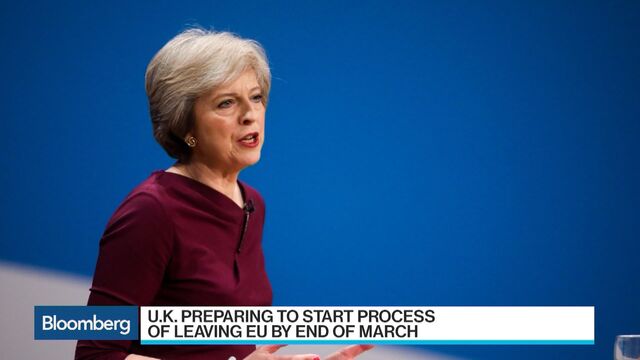 Sign up to receive the Brexit Bulletin in your inbox, and follow @Brexit on Twitter.
Prime Minister Theresa May never wanted to give lawmakers a say on when to trigger Brexit, and yesterday's 12-hour parliamentary debate shows why.
While set to win the backing of legislators to start the talks by invoking Article 50, May will have realized she's going to have to pay a political price, as even her own side reminded her that her small majority in the House of Commons could be easily overturned. Critics demanded more power over how she conducts discussions with the European Union, especially if the talks start to go wrong.
"As we embark on these negotiations I remain far from convinced that we will get any good deal," former Tory minister Anna Soubry said. "If no deal has been struck at the end of this process, all options must remain open and it will be for this place, not the government, to decide what happens next."
More than 100 amendments will be proposed, with the government hoping to have its bill passed by March 7, the same week as the budget and a Brussels summit of EU leaders. 
A survey by the pro-European Open Britain found 51 percent of people would want May to return to the negotiating table if Parliament votes against the final deal. 
Home Secretary Amber Rudd said she still hoped Britain would have an ongoing role in Europol, the region's law-enforcement agency, after Brexit.

Parliamentary Poll
A new poll of 101 lawmakers exposed the divisions within Parliament.
Some 72 percent of those Members of Parliament who voted to leave the EU prioritize controlling immigration or not paying into the EU budget ahead of access to the single market, according to a survey conducted by U.K. in a Changing Europe and the Mile End Institute. 
By contrast, those who backed staying in the bloc are more split, with under half putting access to the single market as their most important aim and others having a range of goals. 
"Leavers want to control immigration at all costs," said Anand Menon, director of U.K. in a Changing Europe. "Remainers are much more divided over what to prioritize — which may well make them less able to shape the debate."
The survey was conducted between October 31 and December 21. 
Banks Brace
Banks need three years to acclimatize to Brexit and the new trading relationship which follows it, according to a report written by PricewaterhouseCoopers for the Association of Financial Markets in Europe.
That transition would be longer than the two years that Brexit Secretary Davis has said is needed. 
In a separate report, the Washington-based Institute of International Finance said a "hard Brexit" remains its baseline scenario. "This means the financial passporting regime will cease to be available to the U.K., perhaps after a transition period," it said.
Still, the EU was warned against punishing the U.K.'s finance industry. Gary Campkin of TheCityUK told a parliamentary hearing that the EU should think "very carefully" about stripping London of its ability to clear euro-denominated assets, as doing so would hurt companies in the region. Jeremy Browne, the City of London's representative to the EU, also said in an interview that an "antagonistic battle" over Brexit would undermine the European economy.
With banks eyeing shifts from London, Irish financial services minister Eoghan Murphy said banks are becoming more positive about Dublin as an alternative base. He said Ireland has had more than 100 post-Brexit enquiries, and predicted more decisions would be made by the end of June.
Start Ups Shift to Portugal
It's not just bankers on the move. Fintech startups are increasingly eyeing Portugal, having previously flocked to London, according to Bloomberg's Edward Robinson.

Losing access to the EU's single market would cloud the plans of those who intended to use London as a springboard into the region. A clampdown on immigration also  would hurt, given that 40 percent of the founders of British startups earned university degrees elsewhere, according to a study by Balderton Capital.
Investors have canceled or delayed funding in at least 30 British fintech startups since June's referendum, said Innovate Finance. 
Brexit Bullets
Facebook Vice President for Europe Nicola Mendelsohn seeks "reassurances" over status of EU nationals in U.K.
New free trade agreements with non-EU nations can't offset Brexit blow, Niesr says
More than four out of five global companies plan to stay in U.K. after Brexit, according to an EY survey
EU President Donald Tusk says President Donald Trump's pronouncements are creating instability in the bloc and put it in a "difficult situation"
Charlie Bean of the Office for Budget Responsibility sees "significant slowing" in U.K economy as consumer spending weakens
Handbag maker Coach said it enjoyed strong U.K. results on back of weak currency.
On the Markets
Strategists surveyed by Bloomberg reckon the pound may see short-term gains if the Bank of England revises its growth and inflation forecasts higher at its meeting this week, as expected.
Investors poured $261 million into the largest U.S. exchange-traded fund tracking U.K. stocks last week amid a strengthening sentiment toward the U.K., according to Mohit Bajaj, a director of ETF trading solutions at WallachBeth Capital in New York.

And Finally...
Veteran Tory lawmaker Kenneth Clarke, a former chancellor of the exchequer, drew laughter in the House of Commons for his attack on Brexit.
Likely to be the only Conservative to vote against triggering Article 50, Clarke said campaigners for the breakup were painting an Alice in Wonderland scenario. 
"Apparently you follow the rabbit down the hole and emerge in a wonderland where suddenly countries throughout the world are queuing up to give us trading advantages," the 76-year old said. "No doubt there is somewhere a hatter holding a tea party with a dormouse."
-- With assistance from Tim Ross
For more on Brexit follow Bloomberg on Twitter, Facebook and Instagram, and see our full coverage at Bloomberg.com
Before it's here, it's on the Bloomberg Terminal.
LEARN MORE