Yellen Urged to Halt Talks on Global Bank Rules for Trump Review
By and
Fed isn't authorized to participate, McHenry says in letter

Lawmaker says president will prioritize American interests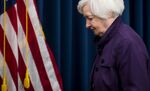 A key lawmaker wants U.S. banking regulators to halt talks over international agreements until President Donald Trump has a chance to review their work and replace top negotiators.
"The Federal Reserve must cease all attempts to negotiate binding standards burdening American business until President Trump has had an opportunity to nominate and appoint officials that prioritize America's best interests," House Financial Services Committee Vice Chairman Patrick McHenry wrote in a letter to Fed Chair Janet Yellen dated Tuesday.
McHenry and other congressional Republicans have regularly railed against the international negotiations designed to guide bank regulators, saying the process is opaque and allows foreign nations to impose their views on U.S. rulemakers. The North Carolina lawmaker said the Fed's continued talks with "global bureaucrats in foreign lands" is unacceptable and that it doesn't have the authority to participate.
Fed officials including Governor Daniel Tarullo often participate as U.S. representatives in international groups including the Financial Stability Board and Basel Committee on Banking Supervision. The central bank is an independent agency, meaning its largely insulated from White House control, and Fed Chair Janet Yellen has said she intends to finish her term, which doesn't expire until February 2018.
Eric Kollig, a Fed spokesman, said the central bank has received the letter and is planning to respond.
'Comprehensive Review'
McHenry said the international process is too secretive and the agreements are "killing American jobs." Existing accords will likely need "comprehensive review," he said.
Though the lawmaker's letter was critical of "binding standards" being negotiated, adoption of most of the international accords isn't mandatory for participating countries. When the U.S. has agreed to accords in the past, the regulators have only instituted them domestically after opening the proposed rules to public comment. The Fed's banking regulations are typically tougher than those instituted in other countries.
The Fed continues to participate in discussions, including in efforts to change earlier capital standards known as Basel III. In those talks, U.S. bank regulators have taken a hard line against European Union representatives seeking more leeway for banks to use internal models to determine their capital levels, people familiar with the talks have said.
Jeff Butler, a spokesman for McHenry, said in an e-mail that the lawmaker wants the Fed to coordinate with the Trump Administration going forward.
"To do otherwise will only lead to confusion among international regulators and create global financial instability," Butler said.