Pacific Camp Refugee Deal in Doubt as Trump Holds Back Support
By and
White House sows confusion after Australia said deal assured

Turnbull seeking to resettle asylum seekers on Manus, Nauru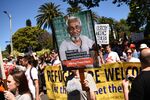 The status of Australia's deal for the U.S. to resettle asylum seekers detained in Pacific island camps has been thrown into doubt by the Trump administration -- a potentially embarrassing blow for Prime Minister Malcolm Turnbull.
President Donald Trump is still evaluating the agreement reached last year with the Obama administration, Michael Anton, spokesman for the White House National Security Council, said by telephone. Just hours earlier, Press Secretary Sean Spicer told reporters in Washington that the deal would go ahead, with the refugees subject to "extreme vetting."
The confusion undermines Turnbull's assurance on Tuesday that Trump had committed to honoring the deal during a 25-minute telephone conversation at the weekend, even as his administration clamped down on immigration from seven Muslim-majority nations.
More than 1,000 asylum seekers who tried to reach Australia by boat are being detained on Manus Island and Nauru, under an Australian policy aimed at deterring people smuggling. Human rights groups have condemned the policy, and the government has been seeking to resettle the refugees in other countries.
The resettlement agreement, reached with President Barack Obama, was heralded as the solution, and held up by the Turnbull government as an example of Australia's strong strategic alliance with the U.S.
Executive Order
The accord appeared in jeopardy when Trump last week signed an executive order indefinitely banning admission of people fleeing Syria, temporarily freezing the entry of other refugees and prohibiting entry by people from Iran, Iraq, Libya, Syria, Yemen, Sudan and Somalia for 90 days. Some of the people on Nauru and Manus are from those barred nations.
Spicer said earlier Tuesday the deal would go ahead, adding it had the full backing of the U.S. government.
The agreement "specifically deals with 1,250 people that are mostly in Papua New Guinea being held," Spicer told reporters, in response to a question. "Part of the deal is that they have to be vetted in the same manner that we're doing now. There will be extreme vetting applied to all of them."
Before it's here, it's on the Bloomberg Terminal.
LEARN MORE