Sony CEO Heads to Hollywood in Push to Revive Movie Studio
By and
Hirai said to plan to spend two weeks a month in California

Company seeks to restore luster after $1 billion writedown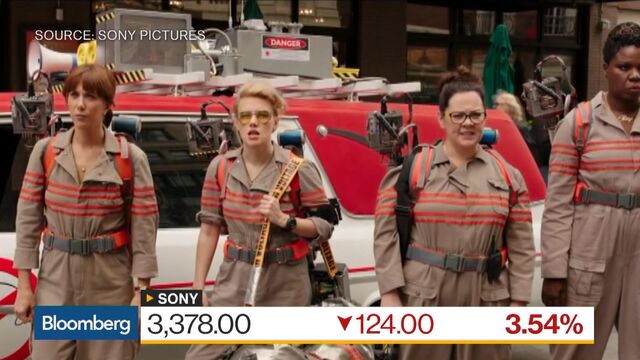 This week Kazuo Hirai, chief executive officer at Sony Corp., will make his appearance at its Culver City, California based film and TV studio in hopes a more hands-on approach will turn around its fortunes.
He will join staffers walking past the RV turned meth lab made famous in the hit TV show "Breaking Bad" and under the giant rainbow built in homage to the "Wizard of Oz" movie filmed on the lot. Hirai is expected to spend approximately two weeks a month at the studio, a person familiar with his plans said.

The move to spend more time at the studio follows a tumultuous period of box office failures, a major cyberattack, the resignation of studio chief Michael Lynton this month and then a $1 billion writedown this week. By Thursday, Hirai will take a seat in his new office on the lot's new Morita building - named after Sony co-founder Akio Morita. He will take on the mantle of co-CEO of Sony Entertainment and begin the search for a new leader at the business.
"It is all about finding the magic and making movies that excite people," Barton Crockett, analyst with FBR & Co said in an interview.
That will be a challenge as competitors like Walt Disney Co. have over recent years invested billions of dollars into their movie businesses and the box office spoils have become concentrated among fewer, bigger budget movies.
"I don't think it's going to be something that is accomplished quickly. You have to make big investments now if you are going to be one of the major studios," Crockett said. "It seems like you have got to swing for the fences just to get consumers to show up."
While revenue at the entertainment division has grown steadily for the last five years, almost all the growth has come from television and media, not films. In June, Sony cut the unit's revenue projections for fiscal year 2018 by about 5 percent to roughly $10 billion and its operating profit margin to between 6 and 7 percent from 7 to 8 percent.
Sony dropped 2.3 percent to 3,423 yen at the close in Tokyo. The shares have gained 36 percent over the past year.

In an internal memo, Hirai and Lynton said that the company was still committed to Sony Pictures Entertainment -- Sony's movie and television production and distribution business -- playing down reports that it might sell the division.
"It's a sign of commitment to the pictures business, however it's also symbolism that they want to change the way business is done," according to Damian Thong, an analyst at Macquarie Group Ltd. "This could include being more open to foreign alliances or tighter financial management of the business, which of course is the theme that Yoshida-san has highlighted over the past two years."
Chief Financial Officer Kenichiro Yoshida has helped engineer a turnaround in Tokyo by trimming more than 40,000 jobs in the last five years and selling ailing businesses like laptops and batteries. The film division was largely spared during the restructuring, but will now see "a culture of financial responsibility," according to Hirai's memo to employees.
The studio has already been working to expand its global reach - particularly tilting to China. It struck a co-financing and marketing deal with billionaire Wang Jianlin's Dalian Wanda Group Co. in September, to help push its movies into what will soon be the world's biggest film market.
Hirai said in the memo the value of high quality content is continuing to rise. At an "all-hands" meeting at the end of the year, Hirai said the company would continue to invest in the business to increase profits but that would take time.
"At a time when there's huge demand for content, the point is to deliver the content tied to the right audiences at the right price," said Thong.
In picking a new CEO for the business, Sony will need an executive who can keep its TV business on track, resuscitate its movie studio and generate more revenue abroad. Among the possible candidates is Disney's former chief operating officer Tom Staggs, but no one has been approached yet, the person said. Staggs declined to comment.
Sony said the majority of the goodwill writedown dates back to its 1989 acquisition of Columbia Pictures, the main movie label of the film studio. The company plans to reveal the impact on its forecasts on Feb. 2.
The impairment was triggered by downgrading the projection for its motion picture business, primarily due to lower expectations for home entertainment and the estimated profitability of its films.
Last year sales of DVDs fell 9.55 percent year on year, but digital sales rose 15.18 percent, leading to a total for U.S. home entertainment spending to be up 1.36 percent, according to data from The Digital Entertainment Group. The decline in demand for DVDs slowed from 2015 when sales fell 12 percent.
Sony has been digging into its archives for properties to revive with mixed results. A move to reboot the "Ghostbusters" franchise failed last year. Sony will try again with a revival of "Jumanji" due in the U.S in December, while also attempting sequels to "Blade Runner" and "Trainspotting."
There are high hopes about Sony's collaboration with Marvel Entertainment to breath new life into its "Spider-Man" franchise. A new movie is due out in 2017.
— With assistance by Christopher Palmeri
Before it's here, it's on the Bloomberg Terminal.
LEARN MORE