Net 1 Says Ending South Africa Welfare Deal Would Be 'Disaster'
By
Net 1 contract, ruled invalid by court, expires end of March

CEO offers to sell business to South African government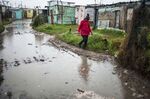 The chief executive officer of Net 1 UEPS Technologies Inc. said a failure to extend its contract to distribute South African welfare payments beyond the end of March would be a "national disaster," and offered to sell the business to the government.
While the South African Social Security Agency is under pressure to replace Johannesburg-based Net 1 as the distributor of 139.5 billion rand ($10.4 billion) of welfare payments annually to 17.2 million people, it's yet to put the contract out to tender. In 2013, the Constitutional Court ruled Net 1's contract invalid because of the way it was awarded. It was allowed to continue because of legal disputes and the failure of Sassa to issue a new tender. Sassa may need to return to court if Net 1's contract is to be continued.
"There is no one else who can deliver the system as we do it today. I do not think this would be feasible for the foreseeable future. It would be a national disaster," Serge Belamant, the company's CEO, said in an phone interview from London on Tuesday. "It will be difficult for them to do anything without us being involved."
Opposition parties including the Democratic Alliance have opposed proposals that Net 1's contract be extended. The human rights group, Black Sash Trust, sued the government last year to force it to protect welfare recipients from companies it alleged were selling goods and services to them that they didn't need, and deducting payments for services such as funeral insurance and mobile phone airtime from grants paid by the state. Some of those companies are part-owned by Net 1.

Deductions Controversy
Net 1 had challenged an attempt by the government to change regulations governing deductions from the grants.
Sassa is scheduled to present its plans for welfare distribution to a parliamentary committee on Wednesday.
"All information will be provided after the portfolio committee meeting," said Kgomoco Diseko, a spokesman for Sassa, declining to comment further.
The South African Post Office said this month it wants to take over the distribution of payments and Barclays Africa Group Ltd., Nedbank Group Ltd. and a unit of FirstRand Ltd. are considering making bids for the contract.
Net 1's Cash Paymaster Services unit has a better network than any of the potential bidders, Belamant said. It hasn't been approached by government, he said, adding that it will need to know whether it's going to continue with the contract by the end of February.
"We will do whatever Sassa wants," Belamant said. "We are very happy to help Sassa bring it in house," he said, declining to say how much his company would sell the business for.
Cash Paymaster enrolls welfare recipients with a biometric card that recognizes them by their fingerprints and owns infrastructure needed to make the payments.
— With assistance by Thembisile Dzonzi, and Sam Mkokeli
Before it's here, it's on the Bloomberg Terminal.
LEARN MORE