Lilly's Strong Humalog Sales Fuel Rise in Fourth-Quarter Revenue
By
Fourth-quarter EPS fell short after higher-than-expected costs

CEO David Ricks among those meeting with president Tuesday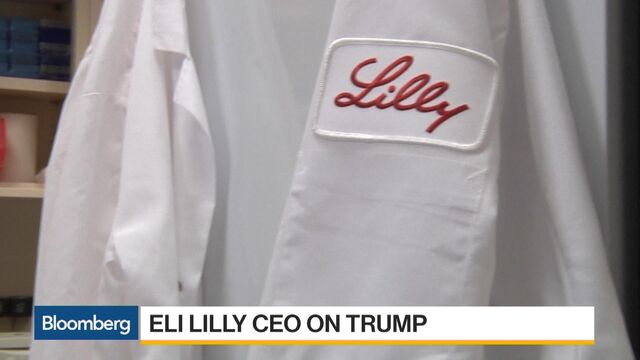 Eli Lilly & Co.'s fourth-quarter revenue topped analysts' estimates, helped by strong sales of new medicines and its top-selling insulin Humalog.
Sales rose 7 percent to $5.76 billion, the company said in a statement, beating the $5.5 billion average of analysts' estimates compiled by Bloomberg. Leading the quarter for the Indianapolis-based drugmaker was Humalog with $820 million in revenue, higher than the $758 million predicted by analysts.
The earnings report is the first under chief executive officer Dave Ricks, who succeeded John Lechleiter on Jan. 1. As he takes leadership of a company developing a broad array of drugs for diabetes, oncology, neuroscience and immunology, he'll have to navigate industrywide criticism of escalating drug prices from the public and Washington lawmakers.
Ricks was among a group of CEOs and industry leaders who met with President Donald Trump at the White House Tuesday. The president told them pricing has been "astronomical" and competition is "key to lowering prices."
Lilly's shares rose 2.3 percent to $76.41 at 11:33 a.m. in New York.
New Products
Lilly is looking for new products to boost sales as it faces pricing pressure on Humalog. The company has said it will have introduced 20 new products in the decade between 2014 and the end of 2023. This month, it agreed to pay $960 million for CoLucid Pharmaceuticals Inc., to add to its pipeline of treatments for migraine.
The company reiterated forecasts for 2017 it gave in December. Lilly expects revenue of $21.8 billion to $22.3 billion next year, and earnings excluding one-time items of $4.05 to $4.15 a share.
Last quarter's earnings were 95 cents a share, excluding some items, missing the 98-cent average of analysts' estimates.
Working to address criticism of the rising costs of insulin, including Humalog, the company introduced a 40-percent discount program that allows patients to buy its insulin products through the digital startup Blink Health.
Lilly's program is designed to help patients on high-deductible insurance plans, who the company believes should benefit from rebates negotiated among drugmakers, insurers and pharmacy benefit managers, Ricks said in a January interview at the J.P. Morgan Healthcare Conference.
Investors are hopeful about the future of Jardiance, which gained an expanded indication in December from the U.S. Food and Drug Administration that made it the only diabetes drug shown to reduce cardiovascular deaths. Jardiance sales were $76 million, while analysts had predicted $67 million. Annual sales are predicted by analysts to bypass $1 billion by 2019.
The company has said it remains committed to searching for Alzheimer's disease treatments. While the shares fell in November when the company announced the failure of an experimental treatment to slow Alzheimer's progression, they have since recovered.
Other highlights from the quarter:
Trulicity sales were $337 million versus the $287 million predicted by analysts.
Cialis sales totaled $676 million compared with the average estimate of $633 million.
Cyramza sales were $177 million; analysts predicted $169 million.
Sales in the animal health division rose 3 percent to $838 million.