markets
India Has a Huge Two Weeks Coming Up
By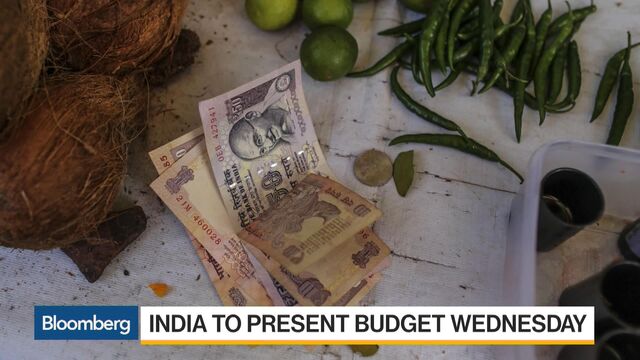 If you've invested in India, don't shift your eyes from your screens for the next fortnight.
QuickTake India's Budget Seeks the Sweet Spot
The government will present its budget on Feb. 1 -- offering the first official estimate of the impact of the world's most sweeping currency policy change in decades. Feb. 4 will see the start of a series of state elections that can embellish or scuttle Prime Minister Narendra Modi's re-election prospects. On Feb. 8, the "accommodative" central bank is due to review interest rates as the global window for easing closes.
These events could set the tone for the remainder of Modi's term and highlight the direction for one of the fastest-growing economies in an increasingly protectionist world. Here's why:
BUDGET
With just two years left in Modi's tenure, the budget's cash handouts and tax breaks offer a glimpse into who he's wooing -- is it the middle-class woman this year or the poor farmer? It also lays out a road map for public finances, so tuning in to the roughly 90-minute speech can tell investors which stocks are likely to gain as well as prospects for an economy that's rated one step above junk status.
Watch: Speech starts 11 a.m. in New Delhi on Feb. 1. You can watch it LIVE
Read: : QuickTake Q&A

CENTRAL BANK REVIEW
Most economists in a Bloomberg survey published this month predict the Reserve Bank of India will lower the benchmark repurchase rate to 6 percent from 6.25 percent, the final of seven cuts since January 2015. Modi's ministers blame one of the world's highest borrowing costs as a key impediment to investment, which is poised to fall for the first time since 2013. On its part, the monetary authority needs to safeguard a recent inflation target, as well as its own credibility following Modi's shock cash ban. The rupee is among Asia's worst performers this year.
Watch: Bloomberg will liveblog the Feb. 8 rate decision on TLIV
Read: Central Bank Cites Security Threat as India Cash Mystery Deepens

STATE ELECTIONS
Four states hold elections this month, with voting starting between Feb. 4 and Feb. 15, and another early March. Key among these is Uttar Pradesh, India's most populous state that has contributed nine of 15 prime ministers. Uttar Pradesh also houses Modi's political base of Varanasi, ground zero for India's vast shadow economy that's been hit by Modi's cash ban. So the votes could be a referendum on his decision: victory may embolden Modi to take more sweeping economic measures while defeat may push him toward populist steps as he heads toward a national contest in 2019.
Watch: Bloomberg News has updates on the elections, with results due March 11
Read: Modi's Holy City Shows $1 Trillion Hidden Economy Has Stalled
"I would be very cautious for the first half of the year given all the uncertainty and concerns," said Santa Monica-based Komal Sri-Kumar, president at Sri-Kumar Global Strategies Inc. "I would look to enter the market in the second half of 2017 and be here for the next five years."

— With assistance by Anirban Nag, and Bibhudatta Pradhan
Before it's here, it's on the Bloomberg Terminal.
LEARN MORE