Murdochs, Sons of Immigrant, Wade Into Debate on Trump Order
by and
On-air hosts break both ways in Monday night's TV coverage

Older Murdoch has clashed with Trump in past over immigration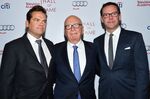 Rupert Murdoch's 21st Century Fox Inc., the owner of Fox News, took a delicate approach in addressing President Donald Trump's restrictions on people entering the U.S., praising the American immigrant experience without explicitly opposing the government's policy.
In a memo Monday, Chief Executive Officer James Murdoch and Co-Chairman Lachlan Murdoch -- whose billionaire father was born in Australia -- said they would help employees affected by Trump's temporary ban of citizens from seven majority-Muslim countries. Absent in the memo was the signature of their father, who is also co-chairman and who called last year for Republicans to coalesce around Trump as a candidate.
"21CF is a global company, proudly headquartered in the U.S., founded by -- and comprising at all levels of the business -- immigrants. We deeply value diversity and believe immigration is an essential part of America's strength," the Murdoch sons said. "We want to assure you that we're doing what we can to assist impacted colleagues and their families."
The memo highlights the challenges facing chief executives trying to protect employees while avoiding politics. The situation is especially fraught for Fox, since personalities on its conservative-leaning news network have alternately clashed with or cozied up to the president.
"Executives have to do what's right for their employees and their shareholders if they want to be successful," said Jay Lorsch, a professor at Harvard Business School who has written about management and governance. "Trump is deceiving himself if he thinks everyone always agrees with him, even if they're polite and cooperate with him."
The Murdoch sons, both U.S. citizens, said Fox was identifying employees who may be affected by Trump's executive order, which lasts for 90 days. Affected workers are getting legal advice and other assistance, the Murdochs said.
Fox shares were little changed Tuesday at $31.38. They've climbed 16 percent in the past year.
Past Differences
Rupert Murdoch has clashed with Trump on immigration in the past. The media mogul took to Twitter in July 2015 to highlight that "Mexican immigrants, as with all immigrants, have much lower crime rates than native born. Eg El Paso safest city in U.S. Trump wrong."
In 2014, he wrote in the Wall Street Journal about the need for immigration reform, removing the cap on H-1B visas and a path to citizenship for illegal immigrants, adding that immigrants added to culture and economic prosperity. He said closing the borders to the world's entrepreneurs was "suicidal," while saying the U.S. needs to do a better job securing its borders.
"As someone who came here as an immigrant, I have more faith in the compassion and fortitude of the American people, and in their ability to reject extreme views on either side of the political spectrum," he wrote.
Murdoch has also tweeted about the "immensity of global Muslim problem" and that a "complete refugee pause to fix vetting" made sense.
Fox News
Hosts on Fox News, which generated about a fifth of 21st Century Fox's profit, provided different perspectives on the order Monday night. The network was the most watched U.S. cable network last year.
On "The O'Reilly Factor," Bill O'Reilly, the most popular Fox News personality, pushed back against Trump's executive order, saying the U.S. must balance its need for security with a tradition of aiding refugees.
"We don't want to tarnish the message the Statue of Liberty sends," O'Reilly said. "Protecting Americans is obviously priority No. 1, but the nobility of our nation demands we help suffering, helpless people if we can."
Another Fox host, Sean Hannity, a vocal Trump supporter, asked on Twitter if protesters across the U.S. were being paid. "Who is bankrolling the protests taking place at airports across the country?" he wrote.
At the Wall Street Journal, owned by the Murdoch-controlled News Corp., editor Gerry Baker caused consternation among reporters, according to reports in Politico and Buzzfeed, by asking them to stop using the description of the travel ban as applying to "seven majority Muslim countries."
"It's very loaded," he said, adding that the seven countries' citizens that are banned were first highlighted by Barack Obama -- a comment made by supporters of the executive order. In reaction to the coverage of his e-mail, Baker sent a follow-up memo saying the paper would continue to cover the Trump administration aggressively but should be careful that the term Muslim "is not offered as the only description of the countries covered under the ban."
Before it's here, it's on the Bloomberg Terminal.
LEARN MORE