business
Brexit Bulletin: 'Do We Trust The People?'
Lawmakers start debating the Brexit bill with 'remainers' already accepting defeat.
By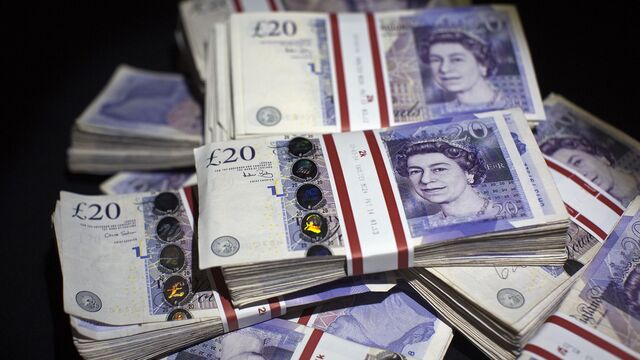 Sign up to receive the Brexit Bulletin in your inbox, and follow @Brexit on Twitter.
One week after the Supreme Court asserted Parliament's supremacy over the prime minister, lawmakers will on Tuesday begin debating whether to trigger Brexit.

Brexit Secretary David Davis will open days of discussion around noon by making the case that the issue is straightforward. Lawmakers are considering "a very simple question: do we trust the people or not?," he will say.
At stake is whether Theresa May will meet her self-imposed deadline for starting talks by March 31 and how much scope she'll have to negotiate as she wants. The Guardian reported the bill will pass with no major amendments after rebels in the ruling Conservative Party were pacified by May's promise to formally publish her negotiating plan. That so-called white paper will be released on Thursday, the newspaper said. 
May is eyeing a European Union summit on March 9 as the moment to file Article 50 after the government told the House of Lords on Monday that it wants the legislation approved on March 7, the Times reported.
Hilary Benn, who chairs a panel of lawmakers scrutinizing Brexit, told Bloomberg Television on Monday that he has "no doubt at all" Parliament will back starting the talks. The opposition Labour Party says it will support the bill.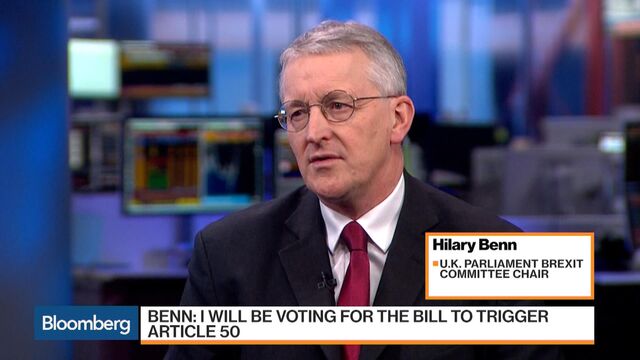 For more information, check out Alex Morales's handy guide.
Also on Tuesday, Facebook, the British Bankers' Association and TheCityUK testify to parliamentary committees.
The Trump Effect
U.S. President Donald Trump's immigration clampdown risks complicating May's Brexit plans.
While her trip to Washington last week was initially seen as giving her a counter-weight to the EU and possibly leverage over it, Mujtaba Rahman of the Eurasia Group argued it now "risks souring Article 50 negotiations before they begin."
German Chancellor Angela Merkel and French President Francois Hollande were both quicker than May to criticize Trump. 
"The extreme unpredictability of the Trump administration's trajectory has made May's already difficult Brexit task even harder," wrote Rahman in a report to clients. "If Trump does not moderate his stances on torture, trade, terror and immigration and continues to be driven by more hardline populist elements in his administration, May will find it increasingly difficult to avoid making difficult choices between her EU and U.S. allies."
At home, more than a million people signed a petition urging the U.K. to revoke its invitation for Trump to make a state visit, although May's office refused to do so. Thousands of people gathered outside May's London residence and in other cities to protest against the president. 
Farewell London?
Frankfurt and Dublin are emerging as the biggest winners as banks with bases in London prepare for Brexit by planning new hubs in the EU.
Standard Chartered and Barclays are set to choose Ireland's capital, while Citigroup, Lloyds and Goldman are eyeing Frankfurt, Bloomberg's Gavin Finch reports in his definitive guide to what big banks are saying in public and private.
German banking supervisor Bafin met with about 50 representatives of foreign banks on Monday to answer their questions.

Meantime, Treasury Select Committee Chairman Andrew Tyrie said he plans to write to Bank of England Governor Mark Carney and other regulators for insight into what the financial system should look like after Brexit. He warned against a "train crash" Brexit in which the U.K. falls back on World Trade Organization tariffs.
Also, leading lobby group TheCityUK softened its tone towards Brexit by declaring it a "once-in-a-generation" opportunity to recast trade and investment.
Research Wrap
Brexit is still the gift that keeps on giving to the think tank community. Here's a review of recent reports:
Brexit Bullets
European Parliament Brexit negotiator Guy Verhofstadt said the EU should discuss trade links with the U.K. at the same time as the divorce, in a split with the European Commission's stance
British households reined in their borrowing in December as unsecured lending rose by £1 billion, the least since May 2015
May says she wants a seamless, frictionless Irish border 
Norway says it's in its interest to strike a U.K. trade deal
Scotland First Minister Nicola Sturgeon says U.K. is headed off a hard-Brexit cliff
German Chancellor candidate Martin Schulz says EU is at risk of destruction in Trump era
Bloomberg View's Mark Gilbert says everyone should brace for a 60-billion euro divorce
Consultancy EY found 35 quoted companies cited Brexit when issuing profit warnings in 2016. 
And Finally…
Call it the Ferrero Rocher offensive. May's government is elevating the status of ambassadors to former Communist states in a push to win allies in the Brexit talks.
Embassies in Latvia, Lithuania, Estonia, Sovenia and Slovakia will also be given more political and lobbying staff as the prime minister seeks to cultivate good relations, Bloomberg's Thomas Penny, Tim Ross and Ian Wishart report. 
The aim is to exploit concerns these small nations have about security and finances in order to split the EU's united front, a senior British official said. 
For more on Brexit follow Bloomberg on Twitter, Facebook and Instagram, and see our full coverage at Bloomberg.com
Before it's here, it's on the Bloomberg Terminal.
LEARN MORE