Brazil Government Deal With Rio Won't Solve Its Debt Crisis
by and
Agreement hailed as model based on inflated growth estimates

Finance ministry says deal was based on reasonable projections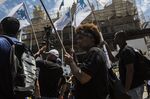 Brazilian politicians inflated growth estimates to facilitate an agreement between the federal government and Rio de Janeiro to resolve the state's financial crisis, raising doubts over the viability of the deal.
The projections, even if proven true, would still leave the state running a deficit by 2021, according to two people with direct knowledge of the matter who were not authorized to speak publicly. The deal was crucial as it sets a precedent for other states in financial difficulties.
Rio Governor Luiz Fernando Pezao last week heralded the "good news" of a deal with the federal government that would allow the state to suspend its debt payments to the national treasury for three years in exchange for cuts in spending and tax hikes. The plan still requires approval from Congress and Rio's state assembly.
But politicians eager to close a deal overruled technocrats to inflate growth estimates, according to the two people familiar with the calculations as well as internal documents reviewed by Bloomberg. If Rio fails to hit the agreed target, the federal government will be left to pick up the tab and further increase an already rising stock of public debt, said one of the two people.
Even in the best-case scenario, Rio de Janeiro will start running a deficit again in 2021, when it would resume paying debt back to the federal government. The state is currently so broke that it has been unable to pay many of its public sector workers and pensioners.
Brazil's finance ministry denied that political interest prevailed over the technical rigor that was used during the negotiation, according to an e-mailed statement from its press department. Rio's revenue estimates were sent by the state finance ministry office, and the state government has no interest in inflating its income numbers, the statement read.
Under the terms of the deal, the federal government estimates the state's gross domestic product will grow 2.5 percent over the next few years, while its revenues will increase 8 percent. This is based on an assumption of inflation of 4.5 percent and a rise in the state's tax take of 3.5 percent per year. The two people told Bloomberg that these projections were unrealistic and that the state will need federal assistance if its fiscal conditions do not improve at the anticipated rate.

Internal studies show Brazil growing at 2.5 percent over the next few years, with the expectation that some individual states will recover even more gradually. Data from Rio's finance secretariat shows tax revenue has been falling since 2013.
Rio is far from the only state facing financial difficulties two years into Brazil's worst recession in over a century. Across the country state governments have been cutting expenditures.
The outlook for state and municipal governments this year remains negative even if tax revenue grows as the economy emerges from recession, Paco Debonnaire, an analyst for Moody's Investors Service said in a Dec. 5 report. Efforts to curb spending will continue to face resistance, he added.
Other states
In 2017 nearly half of Brazil's 27 regional governments expect to post a primary budget deficit, which excludes debt interest payments, according to O Estado de S.Paulo newspaper. In late December, President Michel Temer vetoed part of a bill providing relief for the nation's debt-ridden states, after lawmakers stripped it of virtually all austerity obligations.
Last week's agreement with Rio was hailed as a way out of the impasse. Finance Minister Henrique Meirelles even described it as a model for other states to follow. Shortly after announcing the deal, Meirelles met representatives from Rio Grande do Sul to discuss its unsustainable debt problems. The state declared a state of financial calamity in November.
Before it's here, it's on the Bloomberg Terminal.
LEARN MORE