For the Newest Citizens, There's Still No Sign of President Trump
The Trump administration has some content to create.
by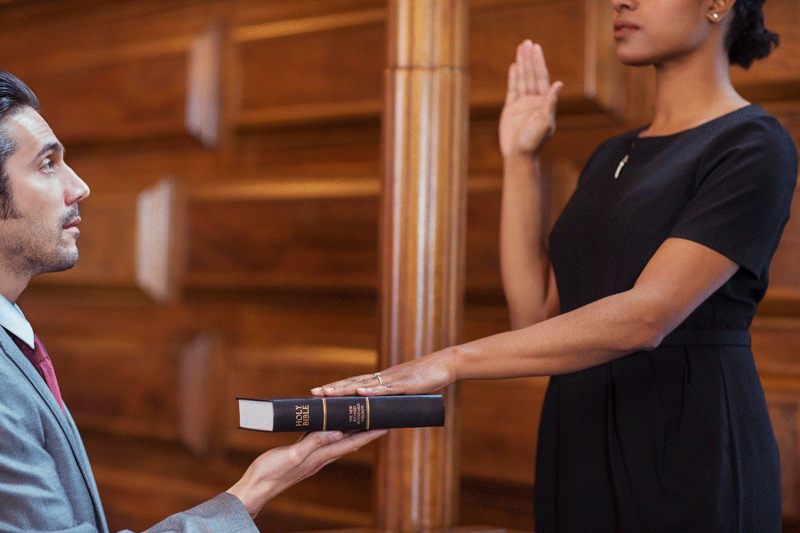 In courtrooms around the U.S., immigrants will be handed a crisp white envelope. Inside they will find a naturalization certificate, a copy of an oath to the nation and the pledge of allegiance, and a letter from President Donald Trump. Some ceremonies might even feature a welcome video from the 45th president. Then, after a speech by the judge, those in attendance become American citizens. 
Well, at least that's what will happen in a few weeks. When one president ascends and another steps down, it can take some time to get all the clerical ducks that go into a government ceremony in a row. 
Naturalization ceremonies, an hours-long affair in which permanent residents become citizens, take place almost every day. At the moment, these procedures lack the presence of the current president. So do some airports and government buildings, which await new presidential portraits. It can take weeks to change the paraphernalia of the presidency, and the interlude can be a bit awkward.
The naturalization process is overseen by United States Citizenship and Immigration Services (USCIS), a division of the Department of Homeland Security. Typically, USCIS provides those becoming American citizens a naturalization package with a letter from the president and, during some administrative ceremonies, a congratulatory video message from the president is played.
The Trump administration has yet to provide these assets. Materials from the previous administration, including portraits of the outgoing president, vice president, department secretary, and USCIS director, are removed by noon on Inauguration Day, according to a spokeswoman for USCIS. (The White House did not reply to a request for comment.) 
It's unclear how long the new White House will take to produce the new letter and video. Given Trump's stance on immigration issues, the administration could reasonably delay or decline to provide the materials.
"It's not unusual for the updates to take some time," a spokeswoman for USCIS said. She could not specify how long it took to the swap materials between Presidents George W. Bush and Barack Obama, but she said several weeks is normal. 
In the meantime, naturalization ceremonies will proceed without any contribution from team Trump, and most new citizens are none the wiser. "I didn't know we were supposed to receive a letter," said Mindy N., a 25-year-old New Yorker who participated in a recent naturalization ceremony and declined to provide her last name to protect her privacy. "I don't know if he hasn't had a chance to prepare one—I hope that's the case. I know he does things unconventionally. But if in a year from now, there's no letter, that's a clear message."
U.S. Customs and Border Protection has also been affected by the lack of Trump-branded materials. At Newark Airport on Tuesday, a traveler who declined to be identified by name spotted a video featuring President Obama welcoming folks to the customs line. At Los Angeles International Airport, a frame meant for the presidential portrait hung empty, according to photographs published by gossip website TMZ.
Portraits of the president are produced by the Government Publishing Office, then make their ways into the hands of the General Services Administration, which manages government buildings. The process could take until early March to complete.
Customs did not return request for comment as to when the new materials will be in place, although a source familiar with the matter said the agency anticipates the portrait swap will begin in the coming days. The videos will probably take longer because they are created in collaboration with local airports and in some cases tourism boards. 
"The government doesn't turn a switch and then everything magically happens," the source said. "It's a slow process." 
Before it's here, it's on the Bloomberg Terminal.
LEARN MORE