After Dissing Trump, Chamber Borrows From His Populist Playbook
By
Lobbying group's 'listening tour' aims to tap small businesses

Association's candidates won in 7 of 9 Senate races in 2016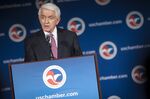 Diana Conley sat like a sparrow among eagles as the U.S. Chamber of Commerce kicked off a nationwide "listening tour" billed as a chance to gather the views of small business owners.
Most of the attendees at the chamber's breakfast meeting in a downtown Chicago hotel came from the area's biggest employers, businesses including JPMorgan Chase & Co., Allstate Corp. and BMO Harris Bank. Conley, whose telecommunications company employs just 10 people, said she wasn't quite sure what she had to share with the nation's largest and most powerful corporate lobbying group.
"I have no relation with the national chamber," said Conley, a member of the Illinois Chamber of Commerce. She views the national group as more in tune with major corporations, she said. "Everyone goes where the big dollars are, and that's the big corporations."
Tom Donohue, the U.S. chamber's chief executive officer, acknowledged that the chamber isn't known for its work with mom-and-pops. "We do a lot of things with and for small business, but we haven't done it well enough," he said.
Donohue is trying to adjust that image as Donald Trump's populist presidency gets under way. The group's small-business listening tour, which began in Chicago Friday, represents an echo of Trump's style that may help enhance the business group's clout.
'Valuable Boots'
"Small businesses are OK in a populist era in a way that big corporations aren't," said Graham Wilson, a political science professor at Boston University who studies business and interest groups. "They're also in each and every state and each and every district. So, they may not pay the big bucks, but they are valuable boots on the ground if it comes to some sort of campaign."
Donohue, one of the most influential and well-paid men in Washington, had been critical of Trump before November's election -- especially his views on trade and immigration. The chamber leader went so far as to predict in a December 2015 Bloomberg interview that Trump "won't be the next president."
Now though, there are signs that relationship is thawing. One of Vice President Mike Pence's first meetings after the election was a closed-door session at the chamber's headquarters, where he promised the group's directors fewer federal regulations and other business-friendly initiatives, said Rich Studley, chief executive officer of the Michigan Chamber of Commerce and a meeting attendee.
And Trump has hired away the chamber's senior vice president for congressional and public affairs, Rolf Lundberg, to be his deputy director for "Buy American, Hire American" at the National Trade Council.
Pre-Election Planning
As for the small-business listening tour, which Donohue announced earlier this month, it was conceived "long before we knew who was going to win the election." The tour will also stop in Baton Rouge, Atlanta, Phoenix and Detroit before a final "summit" in Washington to showcase what leaders have learned.
"We've worked with small business for a long time," Donohue said. "But it became very clear to us, with the issues that were in front of us at home and around the world, that we had to use that asset much better and we had to organize ourselves to do it, and we had to spend money, not raise money, to make that happen."
Daniel Dudis, who studies the chamber's political influence at the liberal-leaning Public Citizen, a non-profit in Washington, is skeptical. He labeled the small-business effort "window dressing" for a corporate lobbying behemoth that needs small business to help sell its message in Congress.
Unlimited Money
As a non-profit trade association, the chamber can raise and spend unlimited amounts of money -- including on political races -- without having to disclose its donors. Some corporate contributors become known because they voluntarily disclose their donations, but the chamber has become a discreet way for corporate America to try to influence elections without publicly picking a side that might alienate some of their customers.
"A lot of their funding comes from larger corporations and donors and they are beholden to those donors," said Steve Rouzer, a spokesman for the Washington-based Main Street Alliance, a liberal-leaning national network of small-business coalitions. "Trump didn't come into office with a lot of specific policy proposals, so they're in a really good position to help create policy as it relates to business."
The chamber's $29.1 million in spending in the 2016 election ranked second only to the National Rifle Association for 501(c) non-profits that aren't required to disclose their donors, according to the non-partisan Center for Responsive Politics.
Winning Record
Chamber-backed candidates won in seven of the nine U.S. Senate races last year where the organization purchased local television advertising to try to influence an outcome, data from advertising tracker Kantar Media/CMAG show. In those senate races, the chamber spent an estimated $15.1 million on TV in the general election phase of the campaign.
Besides influencing campaigns through television advertising and campaign contributions, the chamber is also one of the top spenders on lobbying in Washington. In 2016, it spent about $75.5 million on such efforts, according to public records compiled by Bloomberg Government.
The chamber had $206 million in revenue in 2014, the most recent year available for an Internal Revenue Service disclosure that it's required to file annually. That same document lists Donohue's compensation as $6.1 million that year.
As part of his push into the small-business world, Donohue said the chamber just hired a former Small Business Administration official, Tom Sullivan, to add muscle to its organizing and lobbying efforts.
The aim is to "not only organize them, but organize them by issue," he said. "We think that if we do that, it's going to make a much more efficient force in bringing these messages to the Congress and the administration."
Before it's here, it's on the Bloomberg Terminal.
LEARN MORE