Aetna May Quit More Obamacare Markets as Repeal Discussion Looms
By
Aetna CEO says ACA footprint may change, won't expand for 2018

ACA losses climbed to $450 million for health insurer in 2016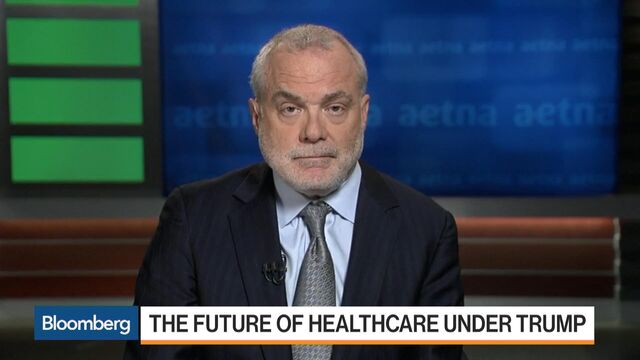 Health insurer Aetna Inc. has already quit most Obamacare markets, and the company may scale back further for next year, Chief Executive Officer Mark Bertolini said Tuesday in another ominous sign for the government health program.
"We don't see expanding that footprint," Bertolini said in an interview. "We may change that footprint. But we will not reenter any of the markets where we have withdrawn from already"
Bertolini's remarks came after Aetna reported 2016 results. The health insurer posted operating profit of $2.92 billion, but it said it lost about $450 million on sales of health plans under the Affordable Care Act, often called Obamacare. On a conference call with Wall Street analysts, Bertolini said that lack of clarity around the ACA's future is weighing on the insurer's plans.
"We'd have to have markets worked up, prices worked up for April '17, in order to apply, and there is no possible way we'll be prepared to do that, given the unclear nature of where regulation is headed," he said.
His remarks are an early sign of how the debate over how to repeal and replace the Affordable Care Act may affect the health law's markets. The sales period for 2017 health plans ends today, and insurers are already crafting the plans they'll begin selling in the fall for 2018. Congressional Republicans, who've been disagreeing on how to replace the law, have said they're aiming to present plans for a replacement in March or April.
On the conference call, Bertolini initially appeared to say that Aetna would quit the ACA entirely. "We have no intention of being in the market for 2018," he said. He later clarified his remarks, saying that he was discussing expansion plans only. He described Aetna's participation in the individual market as an effort to help President Donald Trump's administration transition to a new health-care system.
"We are working with the administration on creating the appropriate transition to whatever new program they develop as the replace option," he said in the interview.
The Affordable Care Act relies on private insurers to sell health plans in new markets it created. Aetna, as well as rivals like UnitedHealth Group Inc. and Humana Inc., have already scaled back sales of ACA health plans after racking up big losses. About 43 percent of people buying Obamacare health plans for 2017 faced a choice of just one or two insurers, compared with 14 percent for 2016, according to the Kaiser Family Foundation.
Aetna is offering health plans on the ACA's individual exchanges in four states for this year, down from 15 a year ago.
Before it's here, it's on the Bloomberg Terminal.
LEARN MORE