business
Your Evening Briefing
Here are today's top stories.
Bloomberg News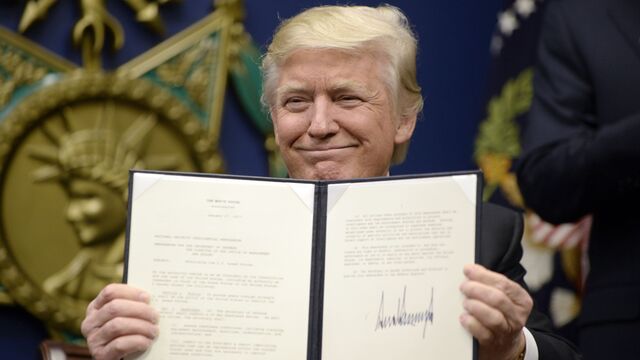 Want to receive this post in your inbox every afternoon? Sign up here.
The weekend didn't bring much rest, to put it lightly. Chaos reigned from airports to board rooms as the world grappled with President Trump's executive order on refugees and immigration.
It opened up legal nightmares, generated corporate pledges to hire refugees, and sparked protests that drew some immigrants you may have heard of, like Sergey Brin. And it's only been a few days. —Megan Hess
Trump blamed the chaos of his immigration order on protesters and a Delta computer outage. But the interruption didn't begin until about 6:30 p.m. in New York on Sunday, more than 48 hours after Trump signed the executive order that set off protests at several U.S. airports. Crowds of thousands gathered from coast to coast on Sunday to oppose the travel restrictions.
Trump's next move on immigration will hit closer to home for tech companies. Google, Facebook, Salesforce, Microsoft and others railed against Trump's move to ban refugees and travelers from seven predominantly Muslim countries, saying it violated America's principles and risked disrupting its engine of innovation. Trump's next steps could make his clash with Silicon Valley even more contentious: His administration has drafted an executive order aimed at overhauling work-visa programs that technology companies depend on to hire tens of thousands of employees each year.
It'll be tricky for CEOs of global companies, too. The weekend left executives with a choice: speak out and risk drawing fire from an outspoken president, or stay silent and face criticism from employees and activists. Late Sunday, the Goldman Sachs CEO told employees that the immigration ban "is not a policy we support," criticizing an administration stocked with Goldman alumni.
Tesla's battery revolution just reached critical mass. So far, Tesla's batteries have only appeared in a handful of pilot projects. That changes this week, when three massive battery storage plants all officially go live in southern California. Any one of these projects alone would have been the largest battery storage facility ever built.
The president's travel ban is un-American and unwise, the editorial board of Bloomberg View writes. "Trump's directive will also make it more difficult for any government official—federal or otherwise, at home or abroad—to work closely with those in a position to help stop terrorists."
Inside the mind of a Snapchat streaker. No, not that kind of streaker. Snapstreaks are a continuous, daily volley of snaps between users; if friends don't snap back and forth for 24 hours, streaks die. That kind of obsessive behavior has contributed to Snap's rise: An IPO as soon as March could put a price tag of at least $20 billion on the business. Snap plans to file paperwork publicly late this week.
Finding peace through watchmaking. Horology 101, a two-hour course in movement mechanics at the Horological Society of New York, introduces a surprising new skill: how to lose track of time. It's easy to imagine a not-too-distant future in which watchmaking classes join the repertoire of mindful activities.

Before it's here, it's on the Bloomberg Terminal.
LEARN MORE