Refugee Order Stiffens Democratic Fight on Trump Cabinet Picks
By and
Immigration ban on seven countries fuels Democratic protests

Democrats could erect roadblocks on nominees, legislation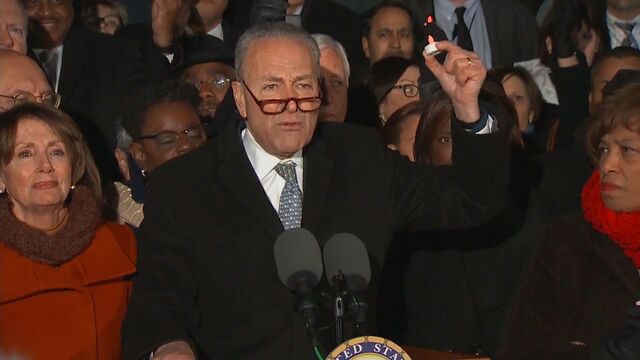 President Donald Trump's Cabinet picks and legislative agenda are at risk of being delayed in Congress by Democrats galvanized by his controversial executive actions, particularly his temporary ban on the entry of people from seven majority-Muslim countries.
Democratic leaders had already been looking to fight eight of Trump's Cabinet picks, and the public outcry over the refugee order is intensifying demands from liberal groups and outraged lawmakers to create more blockades against the Senate's actions. The disputes could also undermine Republican chances for early wins in Congress on legislative initiatives supported by Trump.
Democratic lawmakers gathered Monday night in front of the Supreme Court to lead a protest against the new order.
"We will not let this evil order make us less American," Senate Minority Leader Chuck Schumer of New York told a crowd of protesters. "We will fight it with everything we have and we will win this fight."
Furious Democrats spent the weekend at airports across the country taking part in spontaneous protests as border agents detained refugees, green-card holders and others ensnared by Trump's order -- including young children and translators who had worked for the U.S. military.
"I could not disagree more with the intention behind the order, but the haphazard and incompetent way it was implemented made matters even worse," Schumer said earlier Monday on the Senate floor. "It is un-American."
GOP Splits
Republicans have already encountered divisions within their party on one of their earliest legislative priorities -- repealing and replacing Obamacare -- with Democrats holding firm in opposition to changes. Republicans emerged from a closed-door policy retreat in Philadelphia having made little progress in settling on a path forward, and Trump's early moves make Democratic defections much less likely.
Even one of the Senate Democrats facing the toughest re-election challenge in 2018 -- Heidi Heitkamp of North Dakota -- came out strongly against Trump's move, calling it "outrageous" and counterproductive. "We can and must do better as a country," she wrote 
in a Facebook posting.
The Senate is scheduled to take a procedural vote Monday evening on the nomination of former Exxon Mobil Corp. chief Rex Tillerson to be secretary of state, and the full chamber is expected to vote Tuesday to confirm Elaine Chao as transportation secretary.
But several Democrats said they first want to hear the nominees' views on Trump's refugee order. Florida's Bill Nelson, the ranking Democrat on the Senate Commerce Committee, sent a letter to Chao Monday morning asking for her views on the travel ban and the confusion caused at U.S. airports.
Mnuchin Delay
Senate Democrats also forced a one-day delay for a planned Senate Finance Committee vote on Steven Mnuchin's nomination to be treasury secretary. That vote will now take place Tuesday morning.
Schumer said Monday morning on NBC that he would push to delay Tillerson's confirmation and demand that other nominees address whether they support Trump's action.
"I think we're gonna ask about it for just about every one," Schumer said of Trump's Cabinet picks, dismissing a question about taking hostages. 
"Oh please, this is so important to America. Aren't the American people entitled to know the positions of these Cabinet people before they come in?" he said.
There's nothing Democrats can do to affirmatively block executive nominations without Republican help, but they can slow them down dramatically if they refuse to give their consent to hold votes. 
Erecting Blockades
Senate Democrats are under pressure from liberal groups and others to fight Trump's agenda more visibly. Former President Barack Obama, via a spokesman, also took the highly unusual step Monday of encouraging Americans to continue their protests against the order.
Adam Jentleson, who served as spokesman for former Democratic leader Harry Reid, wrote a Washington Post op-ed urging Democrats to throw up blockades on Senate action, which would grind the chamber to a crawl.
Trump is also preparing to announce his Supreme Court nominee on Tuesday, which will prompt another big Senate battle. Confirming a high court justice still requires 60 votes, and after Democrats spent most of the past year protesting a Republican blockade on Obama's nomination of Merrick Garland, the executive order on refugees could push them into mounting a full-scale filibuster. 
That, in turn, could prompt Republicans to employ the so-called nuclear option, a rules change deployed by Reid in 2013 to push Cabinet nominees through on a simple majority vote.
In the weeks following Trump's surprise victory, Schumer had been courting Trump on trade and infrastructure policy, where the president has been rhetorically closer to rank-and-file Democrats than he has been to most Republicans. 
But the weekend's images stiffened the tone of Democrats talking about resisting Trump.
Howard Dean, a former Democratic Party chairman, chided Senator Tim Kaine of Virginia, the party's 2016 vice presidential nominee, for not fighting harder.
"You are being left behind by your base," he tweeted at the Virginia senator and 2016 vice presidential nominee.
Republican Angst
The refugee travel ban has also unnerved some Republicans, including Senators Lindsey Graham and John McCain, who warned it could hurt the fight against terrorism by giving terrorists a recruiting tool. Others, including Majority Leader Mitch McConnell of Kentucky, oppose blocking former translators for the U.S. military from countries including Iraq, and still others wanted to exempt green-card or visa holders.
More than a dozen Republican senators expressed some level of concern with the order, although they haven't yet said they would take any action. 
Any three Republicans could unite to block a nomination along with all Senate Democrats, a tactic Republicans used liberally against Barack Obama's nominees.
Even before the order, there was growing frustration among Republicans over Trump's tendency to spark controversy or veer off script -- including evidence-free claims of millions of fraudulent votes and false claims about his inauguration crowd size.
"It derails the message," Representative Adam Kinzinger of Illinois said last week at a GOP policy retreat in Philadelphia when asked about Trump's voter-fraud claims. "Any time you get away from our message, which is jobs, manufacturing, economy, defense, rebuilding the military, I think you derail the message."
Policy Splits
Publicly, Trump and GOP leaders haven't always been talking in unison. The president has confounded Republicans by insisting that nobody will lose coverage under an Obamacare replacement, a goal many see as unattainable while preferring to focus on cost and access. Trump has also promised the largest tax cut in three decades, while McConnell and House Speaker Paul Ryan say any tax overhaul should be revenue-neutral.
Trump's "comments on health care and tax reform, which take nearly every position, have fueled speculation around what can get done," said Rory Cooper, who served as a spokesman for former House Majority Leader Eric Cantor. "But my guess is that if the Senate and the House can forge agreement on either or both issues, they won't encounter resistance from Trump."
Cooper said congressional Republicans made a trade-off long ago that they would "excuse his erratic behavior in exchange for their legislative agenda having a signing pen in the White House."
Schumer, meanwhile, also has to consider the 10 Senate Democrats up for re-election in 2018 in states Trump won. Senators including Joe Manchin of West Virginia have gone out of their way to try and be friendly to Trump, for example, and he has said he plans to vote for most of Trump's nominees.
Trump still has plenty of vocal defenders in Congress, particularly among House Republicans.
Jeff Duncan of South Carolina insisted in a statement that the temporary ban on travel from seven majority-Muslim countries is not "a Muslim ban," noting that many Muslim countries are not included. And he said it was "impossible" to vet people from Syria in particular because of the ongoing war.
"Let's stick to the facts, and to me the facts clearly back up the president's actions," he said.
Republicans may face the same dilemma they faced during the primaries, when polls showed broad support among Republican primary voters for Trump's proposal at the time for a total, temporary ban on Muslim immigration.
The optimistic outlook for Republicans is that there may be a method to Trump's unpredictability.
"This was President Trump's style throughout the campaign: a blizzard of statements and actions that keep his opponents constantly off-balance and confused about what to fight him on. The hope is that — behind the scenes — his team is engaged on making real progress with Republicans on the Hill," said Michael Steel, who served as an adviser to Jeb Bush's 2016 campaign and served as an aide to ex-Speaker John Boehner.
— With assistance by Anna Edgerton, Arit John, Billy House, and Terrence Dopp
Before it's here, it's on the Bloomberg Terminal.
LEARN MORE