Trump Organization's Ethics Team Tied to Trump U, Dark Money
By and
Burchfield, Sorial tapped to help firm navigate conflicts

Trump turned businesses over to sons, kept financial ties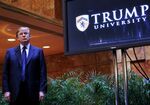 In assembling a team to navigate potential ethical conflicts, the Trump Organization picked one lawyer who helped defend Trump University and another who helps raise "dark money" for Republican candidates.
Bobby R. Burchfield, a commercial litigator and political lawyer with the law firm King & Spalding, was named independent ethics adviser, assisting the company in avoiding conflicts and complying with applicable laws and regulations.
George Sorial, an executive vice president in the Trump Organization, will serve as chief compliance officer and be responsible for "ensuring that the company, at all times, remains compliant with the highest legal and ethical standards," the company said in a statement last week.
On the same day, the White House named four other lawyers to its own ethics team.
On Jan. 11, then-President Elect Trump said he would turn leadership of the company over to sons Eric Trump and Donald Trump Jr. while retaining his ownership stake. Critics say that isn't enough to resolve his conflicts of interest. A Washington group sued Trump Jan. 23 claiming his continued connection to his businesses violates the U.S. Constitution.
"The self-imposed rules Trump laid out are so vague, you could have a whole area to work in where there aren't any bright lines," said Larry Noble, general counsel of the Campaign Legal Center, which has battled Burchfield in court over campaign finance laws.
Robert Weissman, president of the liberal watchdog group Public Citizen, questioned hiring an ethics lawyer who chairs "the nation's largest dark-money organization, Crossroads GPS, and has argued before the U.S. Supreme Court for an expanded role of big money in politics. Dark money comes from politically active nonprofits that are not required to list their donors.
Burchfield and Sorial declined to comment. In the prepared statement, they said they were confident the Trump Organization will comply with ethical standards.
Trump U Ties
Sorial, who joined The Trump Organization as a lawyer in 2007, described himself in a 2013 deposition as a "real estate development person" specializing in business transactions. He said his involvement with Trump University began in 2010 and was "minimal."
Court records in a lawsuit against Trump University show Sorial dealt with the outside attorney hired to handle the case. He also spoke to state lawyers in New York, Texas, Illinois, Maryland and Florida when they investigated consumer complaints against the school. And Sorial asked New York state for permission to call the venture "Trump Education" after officials barred Trump in 2010 from using the term "University."
Sorial helped spearhead an internal investigation into Trump University after New York sued the business, a judge said. Sorial testified that he threatened to sue the Better Business Bureau in 2010 to raise the "D-" rating it gave the business.
"We took issue with a grade," Sorial testified in the deposition, adding that the group changed its rating of Trump University to "not rated." In a statement the Better Business Bureau said, "At no point did BBB change the rating of Trump University based upon a demand from anyone."
After the election, Trump agreed to pay $25 million to settle claims Trump University cheated thousands of students by failing to deliver on promises they would learn Trump's real estate secrets.
Donald Trump Jr. called Sorial an "invaluable member" of the company. "It is vital to have someone in this position who understands the breadth of our organization," he said in a statement.
Ethics Adviser
In choosing Burchfield as its ethics adviser, the Trump Organization picked an accomplished lawyer with deep ties to the Republican Party. Most of his work involves counseling and defending companies including United Airlines, the National Football League and Tenet Healthcare Corp. He's never lost a jury verdict, according to his law firm biography.
Burchfield was general counsel for then-President George H.W. Bush's unsuccessful 1992 re-election campaign and advised former New York Mayor Rudy Giuliani's 2008 presidential campaign. Burchfield represented then-Governor George W. Bush in the 2000 Florida recount and was named 2015 Republican Lawyer of the Year by the Republican Lawyers' Association.
He's also listed in 2014 tax documents as chairman of Crossroads GPS, the Karl Rove-connected political nonprofit that was a pioneer in the use of "dark money" in political campaigns -- donations to politically active nonprofits that do not have to disclose the sources of their funding, according to the Center for Responsive Politics.
From 2010 to 2014, Crossroads GPS spent $114 million on political ads without disclosing its donors, according to the center's data.
In 2005, Burchfield represented then-House Majority Leader Tom DeLay in legal and ethics complaints stemming from his relationship with lobbyist Jack Abramoff, who pleaded guilty in 1996 to conspiracy, fraud and tax evasion. DeLay was reprimanded by the House Ethics Committee but wasn't charged with a crime.
"Bobby is highly respected in his field and we look forward to following his guidance," Eric Trump said in a statement.
Burchfield represented the Republican National Committee against claims by Democrats that it was engaging in efforts to intimidate voters in the guise of watching polling places for evidence of voter fraud, in violation of a 1982 court order. The Democratic National Committee was seeking an order barring the GOP from voter suppression or intimidation, citing Trump's claims of a rigged election and his call for supporters to monitor polling places. Burchfield's job was to prove Trump and the party were separate.
"Is the DNC really contending that the RNC has control over Donald Trump?" Burchfield asked in a November hearing. "That would be a news flash."
White House picks
The Trump administration's picks for its ethics team include:
* Stefan Passantino, a partner at the law firm Dentons, served as counsel to former Republican House Speakers Newt Gingrich and Dennis Hastert. Passantino was also the lawyer for The Opportunity & Freedom PAC that backed former Texas Governor Rick Perry's bid for the Republican nomination.
* Uttam Dhillon, chief oversight counsel to the House Financial Services Committee, previously worked for the Department of Homeland Security and the Justice Department.
* Scott Gast, chief investigative counsel at the Office of Congressional Ethics, was formerly at the law firm Covington & Burling LLP.
*James Schultz, chairman of the law firm Cozen O'Connor's government practice, previously worked as general counsel in Pennsylvania Governor Tom Corbett's administration.
— With assistance by Patricia Hurtado
Before it's here, it's on the Bloomberg Terminal.
LEARN MORE