Trump-Fueled Yield Jump Hits 'Speed Bumps of Reality,' Tipp Says
by
PGIM strategist says bonds already accounted for stimulus

Markets don't see cataclysmic end to trade issue, he says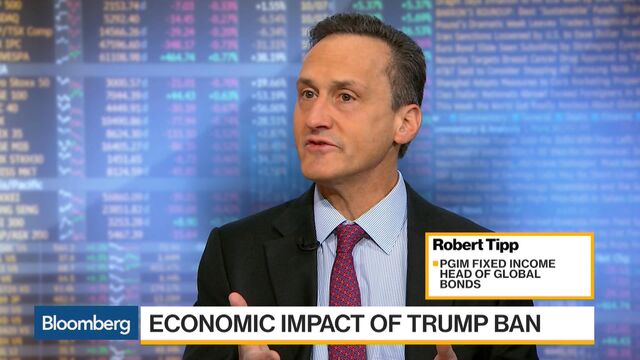 The slump in bond prices following Donald Trump's victory in the presidential election may moderate as investors scale back expectations of quick fixes to boost the economy, according to Robert Tipp, chief investment strategist at PGIM Fixed Income.
"You may see some settling back as you hit the speed bumps of reality and implementation," Tipp said Monday in an interview with Bloomberg Television. "The increase in long-term interest rates that would be due if the policy comes in very stimulative has been taken into account."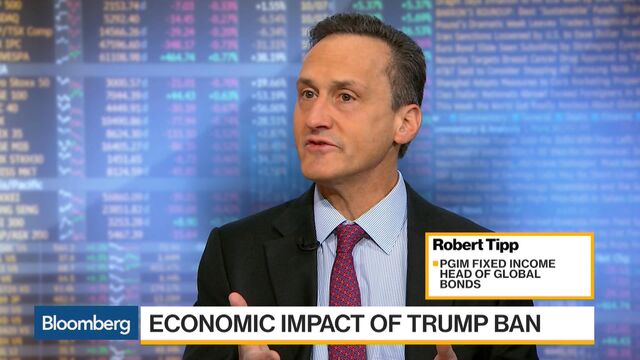 Bonds have fallen since Trump won the presidential election in November amid speculation that deregulation, lower taxes and increased infrastructure spending will stoke growth. PGIM, which oversees more than $1 trillion and is part of insurer Prudential Financial Inc., is among investment managers pushing a long-term view as Trump's White House sends some signals that rattle markets and others that raise hopes of greater economic expansion.
Jaret Seiberg, a policy analyst with Cowen & Co. who appeared alongside Tipp on Bloomberg TV, highlighted the resistance that Trump will face implementing his plans. He said the new president is unlikely to enjoy the same rapport that Ronald Reagan, another Republican, had with Democratic lawmakers decades ago.
"Reagan's relationship with Tip O'Neill, the Democratic speaker, was actually quite strong," Seiberg said Monday. "I'm not sure we have the same type of relationships that we saw back then, and that's going to slow things down significantly."
'Big Picture'
Tipp said that investors should focus on "big picture" economic trends. He noted that yields on 10-year Treasuries have moved only about a basis point since Friday, even as Trump's clampdown on immigration sparked a global backlash.
And while investors may need to temper their expectations for stimulus, securities prices suggest that one of the worst threats -- a slump in global trade -- isn't as likely as some had feared, according to Tipp. White House press secretary Sean Spicer has floated the idea of paying for a border wall with a 20 percent tax on Mexican imports.
"Markets are smart," Tipp said. "Markets have concluded though that there may be an example made of some countries more than others on the trade front, but that free trade is going to continue. And that this is not going to be cataclysmic but we have to stay tuned."
Before it's here, it's on the Bloomberg Terminal.
LEARN MORE