S. Africa's Ruling ANC 'Under Severe Strain,' Ramaphosa Says
by
ANC 'infiltrated' by people seeking access to state business

Building party unity 'most important and urgent task'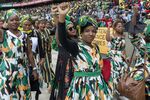 South Africa's ruling party is "under severe strain" and is being undermined by disunity, mistrust and organizational weakness, according to Deputy President Cyril Ramaphosa.
In power since Nelson Mandela led the party to victory in the nation's first multiracial elections 23 years ago, the African National Congress has been mired in a series of controversies including the alleged attempts to manipulate government appointments by the Gupta family, who President Jacob Zuma says are his friends. The ANC suffered its worst electoral performance yet in an August municipal vote, when it lost control of Pretoria, the capital, and the economic hub of Johannesburg to opposition-party coalitions.
"There are instances where internal ANC processes have been infiltrated by individuals and companies seeking preferential access to state business," Ramaphosa, 64, said according to an e-mailed copy of a speech that he delivered Monday in George in the Western Cape province. "Building the unity of the ANC and the alliance is therefore the most important and urgent task of the moment."
To read more on the threat of corruption to the future of the ANC, please click here.
Ramaphosa, who also is the deputy president of the ANC, is seen as being among the front-runners to replace Zuma, 74, who is scheduled to step down as the party's leader in December and end his second term as president in 2019. Zuma may be considering appointing his ex-wife, Nkosazana Dlamini-Zuma, to his cabinet to ease her path to succeed him, government officials have said.
Zuma told state-owned Motsweding FM radio on Jan. 12 the ANC is ready for a female leader and the job won't automatically go to his deputy, Ramaphosa.
Before it's here, it's on the Bloomberg Terminal.
LEARN MORE