S. Africa Readies Armyworm Offensive as Corn Crop Threatened
By
Confirmation awaited after reports of pest in three provinces

Country better prepared to handle outbreak than rest of region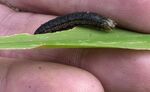 South African growers are preparing to battle alien armyworms after reports of the corn-field destroying caterpillars in three provinces, a farmers' organization said.
Grain SA expects to receive confirmation from the government by the end of the week to verify whether samples collected in the Limpopo, North West and Free State provinces are fall armyworms, Marinda Visser, a manager at its research and policy center, said by phone on Monday. In the meantime, farmers are preparing their defenses.
The fall armyworm that's native to the Americas was first reported in west Africa a year ago and has spread rapidly through the continent, ravaging crops in countries including Zambia, Zimbabwe and Malawi. The outbreak threatens food security in southern Africa, which is recovering from the worst drought in more than 35 years, even as most areas have received heavy rainfall since the start of the growing season around November.
South Africa is the continent's biggest producer of corn, which is a staple food in most countries in the region. The suspected invasions in South Africa were first reported about six weeks ago and are isolated, mainly on high-yielding irrigated farms in Limpopo province, according to Johnnie Van den Berg, an entomologist at North-West University who's studying the suspected outbreak.
"We've seen in some fields only 10 percent of plants show leaf damage," he said by phone. "In some areas there's up to 80 percent infestation where lots of plants have suffered serious leaf damage."
Better Placed
South Africa is better placed to control an outbreak than other countries in the region, according to Visser.
"Our response time is much faster -- I think we caught it right at the beginning," she said. "We are all systems ready to go as soon as there is confirmation. We will nip this in the bud very quickly."
South Africa could increase its corn crop to at least 11.9 million metric tons this year from 7.5 million tons as rains improved, the Agricultural Business Chamber said in a report. A good harvest would help ease inflation, which accelerated to 6.8 percent in December, the highest since February, but a serious armyworm invasion would counter this.
"It is difficult to estimate what the economic impact of this would be on the consumer side because of the isolated areas that were infested up to now," Van den Berg said. "Should we get re-infestations of these moths, should significant populations survive current controls, we might have significant damage, but I don't think it will be a disaster."
Grain SA, the biggest representative of corn farmers in South Africa, has already started talks with major chemical suppliers to determine the best pesticides to use to fight any fall armyworm outbreak, she said. In Zambia, where the caterpillars invaded more than 10 percent of the country's planted area, the government got the air force to help distribute chemicals.
Before it's here, it's on the Bloomberg Terminal.
LEARN MORE