RBNZ's Wheeler to Make Announcement on Future Soon, Joyce Says
By and
Governor Wheeler's first five-year term ends in September 2017

Finance Minister Joyce sees little need to change RBNZ remit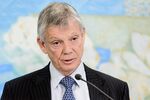 New Zealand central bank governor Graeme Wheeler will make an announcement "fairly soon" on his future in the role, Finance Minister Steven Joyce said.
"I don't really want to get into where he's at in terms of seeking a renewal or not," Joyce said in an interview late Monday in Wellington. "He's indicated a timeframe, which is fairly soon, in terms of when he's going to say something. I'll leave him to do that."

Wheeler's first five-year term ends in September and he has yet to indicate whether he'll seek a second. The Reserve Bank Act states that a governor or deputy governor cannot continue to hold office if they are 70 or older and Wheeler, 65, would reach that age four years into a second stint.
Joyce said while that's a part of the legislation that may be outdated and in need of reassessment at some stage, "there won't be any change to accommodate" Wheeler. Asked if Wheeler could serve a four-year term, Joyce said "let's just wait and see."
Reserve Bank Head of Communications Mike Hannah confirmed that Wheeler will be making a statement on his future "in due course," and declined to comment further.
Joyce, who took over as finance minister when Bill English succeeded John Key as prime minister in December, indicated he sees little need to alter the government's Policy Targets Agreement with the RBNZ.
Inflation Target
The PTA sets out the details of the central bank's mandate. It currently stipulates that the RBNZ must keep inflation within a 1-3 percent target band on average over the medium term, with a focus on the 2 percent midpoint.
The agreement is reviewed when there is a change of government, or when a governor's term ends or is up for renewal.
"I'm still getting advice, but I wouldn't be holding my breath for massive changes, or changes at all," Joyce said. "I think it's served New Zealand very well."

Appointed in 2012, Wheeler has presided over an economy that has out-performed its developed peers, with growth of 3.5 percent in the year to September. Yet he has failed to meet his inflation target as the strong New Zealand dollar suppressed import prices.
"We are in quite unusual times so people have to, and do, take into account that the New Zealand Reserve Bank is not operating in isolation," said Joyce. "It's operating in a context of a world economy that has some rather unusual characteristics to it by historic standards."
Wheeler has cut his benchmark rate to a record low of 1.75 percent in an effort to revive price pressures.
Inflation returned to the 1-3 percent target band in the fourth quarter of 2016 for the first time in more than two years. It won't reach the 2 percent midpoint until the end of 2018, according to the RBNZ's latest projections.
Before it's here, it's on the Bloomberg Terminal.
LEARN MORE