Putin-Trump Meeting Seen as Kremlin Lauds Respectful Talks
By and
Leaders focused on fight against terrorism, Kremlin says

Phone call went well in political, personal terms, Lavrov says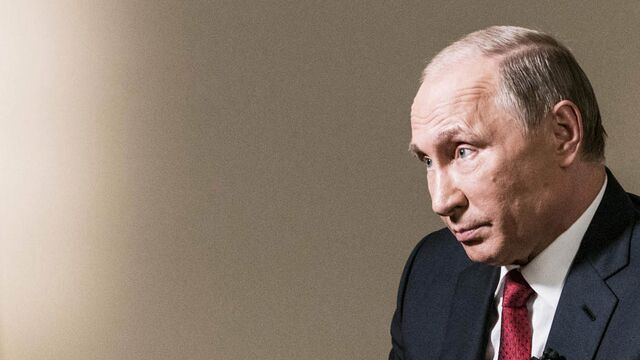 Russian leader Vladimir Putin and U.S. President Donald Trump may meet before the next Group of 20 summit in July, a Kremlin spokesman said, hailing what he called a new tone in relations following their first phone talks.
Aides will work on a possible date and location for a meeting after Putin and Trump held "constructive" discussions that emphasized "respect as a very important principle in bilateral relations," Kremlin spokesman Dmitry Peskov told reporters on a conference call Monday. The absence of that "in previous years was largely the cause of the reversal and degradation in our relations," he said.
The conversation on Saturday went well "in a political and personal sense," Russian Foreign Minister Sergei Lavrov told reporters in Moscow. There was "a desire by both leaders to communicate without moralizing," he said.
The call was among Trump's first formal moves to reset relations with the Kremlin, which soured under ex-President Barack Obama over Russia's 2014 annexation of Crimea and support of separatists in eastern Ukraine, as well as its backing for Syrian President Bashar al-Assad against rebel fighters. Trump's critics have questioned the wisdom of his calls for better ties with Putin, especially in light of the U.S. intelligence community's conclusion that Russia hacked e-mails of the Democratic National Committee and other Democrats in a bid to swing the November election in the Republican's favor.
Putin and Trump focused largely on the fight against terrorism in Saturday's conversation, and they didn't discuss U.S. sanctions imposed over the Ukrainian crisis, Peskov said.
The fight against Islamic State is "a top priority" for both countries and Russia's ready to discuss military, diplomatic and intelligence cooperation with the U.S. in combating terrorism "at any time," Lavrov said.
"I see almost unlimited possibilities with the political will and with the readiness of our militaries to translate this political will into concrete agreements and concrete actions," Lavrov said.
Peskov, the Kremlin spokesman, declined to comment on Trump's executive order limiting immigration into the U.S., which has drawn criticism from other leaders. "It's not our business," he said.
Before it's here, it's on the Bloomberg Terminal.
LEARN MORE