business
Poland to Hit German Media Investors With Ownership-Curb Plan
By
Anti-concentration plan comes before Merkel's visit to Warsaw

Axel Springer, Bauer Media and U.S. Scripps are major owners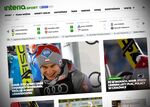 Poland is seeking to place limits on media ownership in a move that can undercut German and U.S. investors whose Polish news outlets are often critical of the government.
The European Union has taken unprecedented steps to try to force Jaroslaw Kaczynski's ruling Law & Justice party address what it calls "persistent" deficiencies in rule-of-law issues as his government consolidates its power over the judiciary and public media. Kaczynski's call to change rules on newspapers and broadcasters, many of which have German investors, comes days before that country's leader, Angela Merkel, visits Warsaw.
The plan to change private media ownership rules follows last year's purge of hundreds of Polish journalists from public outlets after Law & Justice put state-held broadcasters under direct government control and named one of its former lawmakers to run public television. The party wants to impose caps on newspapers and television providers similar to those in France, which has the most stringent anti-concentration rules in the EU, according to consultancy Wagner Hatfield.
"Several capital groups own a majority of Polish media," Kaczynski said in Rzeszow, Poland on Monday. "That needs to change, with the introduction of similar legislation as in France."
Kaczynski ratcheted up his rhetoric against private media last month, calling their coverage of an opposition lawmakers' sit-in in parliament "scandalous" and saying it amounted to an "attempted coup d'etat." Deputy Culture Minister Jaroslaw Sellin said in December that "none of the serious European states would allow for such dominance of foreign capital in a sphere as delicate as the media."
Germany's Bauer Media Group controls Poland's biggest independent radio broadcaster and one of the country's top web portals, Interia.pl. The Swiss-German joint venture Ringier Axel Springer Media AG publishes the biggest tabloid Fakt, along with the Polish edition of Newsweek and the web portal and television Onet. A unit of Verlagsgruppe Passau GmbH controls about 20 regional newspapers, and the biggest private-television network, TVN, along with its news channels TVN24 and TVN24BiS, are controlled by Knoxville, Tennessee-based Scripps Network Interactive Inc.
— With assistance by Konrad Krasuski
Before it's here, it's on the Bloomberg Terminal.
LEARN MORE