Merkel Criticizes Trump Blocking Muslim Migrants as Unwarranted
By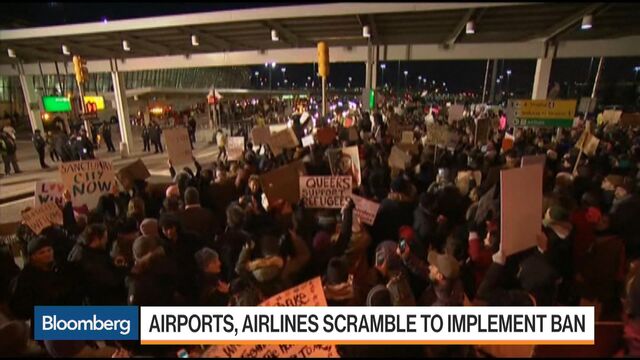 German Chancellor Angela Merkel denounced U.S. President Donald Trump's order setting new barriers to entry for people from seven mostly Islamic countries as a breach of humanitarian standards, saying the fight against terrorism doesn't justify it.
The U.S. administration's action "in my view runs counter to the basic idea of international refugee aid and to international cooperation," Merkel told reporters in Berlin on Monday, expanding on a statement by her spokesman a day earlier.
"The necessary, resolute fight against terrorism in no way justifies a blanket suspicion against people of a certain faith -- in this case Muslims -- or a certain origin," Merkel said before a joint appearance with Ukrainian President Petro Poroshenko at the chancellery.
Merkel expressed her concern about the temporary ban during a call with Trump on Saturday, according to her spokesman Steffen Seibert. She told Trump that international law requires states to "take in war refugees on humanitarian grounds," Seibert said in a statement on Sunday.
Before it's here, it's on the Bloomberg Terminal.
LEARN MORE