business
Ex-HBOS Bankers Convicted in Scheme That Cost Bank $315 Million
By
Fraud cost bank customers hundreds of millions of pounds

Defendants mismanaged troubled businesses for their own gain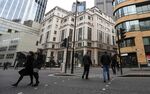 Two former HBOS Plc bankers were convicted by a London jury of participating in a scheme that siphoned millions from failing businesses and eventually cost the bank around 250 million pounds ($315 million).
Mark Dobson, an HBOS banker and David Mills, a turnaround consultant, were found guilty of a string of fraud offenses that allowed the men to live in a world where bribes, luxurious foreign travel and high-class escorts became the norm. Lynden Scourfield, another HBOS employee who prosecutors put at the center of the crime, pleaded guilty to six counts of fraud and corruption before the trial started last year.
"Scourfield worked in a section of his bank which was supposed to help struggling businesses but instead, motivated by greed, he went about stripping them of their assets," Stephen Rowland, a lawyer in the Crown Prosecution Service's fraud division.
The verdicts end a legal fight that cost HBOS financially as well as hurt its reputation. Edinburgh-based HBOS was the subject of one of the most controversial episodes of Britain's financial crisis that led to a state-brokered takeover by Lloyds Banking Group Plc in 2009 and a 20.3 billion-pound taxpayer bailout.
Reading Branch
The conspiracy, which was run out of the bank's Reading branch, was an embarrassment, if not a key factor in the HBOS collapse. Mills enticed his co-conspirators between 2003 and 2007 with cash payments, holidays and prostitutes, the police said, and was able to collect high consulting fees as well as take over the struggling small businesses and load them with excess debt that HBOS was ultimately responsible for.
Two businessmen, Michael Bancroft and Tony Cartwright, were guilty of conspiracy to corrupt, fraudulent trading and conspiracy to conceal criminal property while Mills' wife was also convicted. One man, Jonathan Cohen was acquitted of any crime.
The investigation into the fraud took police six years to bring to court and uncovered luxury properties in multiple countries and even Mills's five-bedroom, 100-foot yacht called the Powder Monkey.
'I'll stick with you'
The relationship between Scourfield and Mills was central to the fraud, prosecutors said during the trial, using e-mails to show how much the men relied on each other. In a 2006 message shown to the jury, Scourfield told Mills "I'll always stick by you."
Scourfield would tell his troubled customers that the bank would only support their companies if they hired Mills, who then added himself, or an associate, as director. The debt at the ailing companies would skyrocket, with Mills taking large payments and sharing them with Scourfield through gifts.
Several months later, Scourfield told Mills "I have been confirmed as grand wizard," and Mills responded "Great. Marry me!" Scourfield's e-mail reply said "I thought we were already."
Thames Valley Police said it was the most complex case it had ever handled, with 150 officers and staff poring more than 500,000 documents.
"I hope that this case offers closure and justice to the victims of this organized crime group," Detective Superintendent Nick John said in a statement. "These are normal hard-working people who have had their lives and had their livelihoods ruined by this."
(
Updates with trial background from the sixth paragraph.
)
Before it's here, it's on the Bloomberg Terminal.
LEARN MORE