Daiwa Weighs Frankfurt, Dublin for EU Operations After Brexit
By
CEO Hibino spoke about plans in briefing with successor Nakata

Brokerage's profit rose on trading, overseas business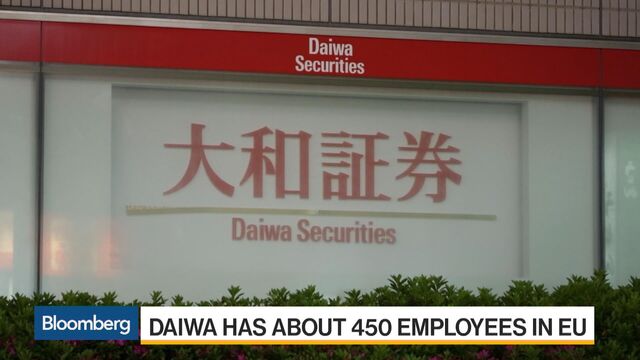 Daiwa Securities Group Inc. is considering Frankfurt and Dublin among candidate cities to host European operations it moves out of London following Brexit, the Japanese brokerage's top executive said.
The Tokyo-based firm will need to establish a licensed entity in the European Union following the U.K.'s decision last year to leave the bloc, Chief Executive Officer Takashi Hibino said. It's running simulations with a consulting firm, he said Monday at a briefing in Tokyo with his successor, Deputy President Seiji Nakata.
Daiwa has about 450 employees in Europe, mostly in London, which will remain the main location for most of its operations in the region. Japanese banks and brokerages are among global financial firms that are considering moving some functions away from the U.K. capital to retain access to the EU.
Earlier Monday, Daiwa announced third-quarter earnings as well as management changes that will see Nakata becoming CEO on April 1. Hibino will take the post of chairman after six years at the helm of Japan's second-largest brokerage.
Net income rose 1.1 percent from a year earlier to 26.7 billion yen ($233 million) in the three months ended Dec. 31, as trading income and brokerage commissions climbed and the company made money abroad, Daiwa reported.
Prospects for Japanese securities firms have improved since November after stocks rallied on a weaker yen following Donald Trump's U.S. presidential election victory. Trading income has been rebounding at banks globally as bond investors adjust positions in anticipation of higher interest rates.
Here are key figures from the results:
Revenue was little changed from a year earlier at 153.2 billion yen.
Trading profit gained 14 percent to 34 billion yen.
Underwriting fees climbed 37 percent to 8.2 billion yen. 
Brokerage commissions advanced 8.2 percent to 17.2 billion yen. 
Overseas pretax profit was 2.6 billion yen, compared with a loss of 3.5 billion yen.
Daiwa said it will spend as much as 20 billion yen buying back shares, carrying out plans it postponed during Japan's stock-market rebound. The shares fell 1.1 percent before the results Monday, paring gains since Trump's Nov. 8 election win to 22 percent. Larger competitor Nomura Holdings Inc., which reports Tuesday, has jumped 40 percent in the same period.
Nakata, who has had stints as an investment banker during his 34 years at Daiwa, said he wants to strengthen the division as CEO. Making an acquisition or forming a capital alliance are options for boosting the advisory business, as is hiring bankers, he said.
Daiwa was ranked fifth among underwriters of equity offerings and corporate bonds in Japan last year, and 13th among advisers on mergers and acquisitions, data compiled by Bloomberg show. It missed out on a lead role managing the initial public offering of Kyushu Railway Co. last quarter.
Before it's here, it's on the Bloomberg Terminal.
LEARN MORE