Communications Union Escalates Effort to Organize Bank Staff
By
CWA says 20,000 workers support effort and have won results

Employees are being trained to collect union cards from peers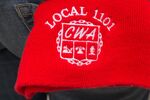 The Communications Workers of America, undeterred by new threats to unions' funds and clout, is pressing ahead with its plan to organize the retail banking industry with the belief that recent rage at banks can help force the virtually union-free sector to negotiate.
The CWA points to strides it has made since it began its approach in 2014, winning the support of about 20,000 employees at banks including JP Morgan Chase & Co., U.S. Bank and Bank of America Corp.. The union says it's succeeded in securing meetings between CWA officials and foreign banks with American branches and between U.S. Bank staff and management, and spurring improvements in wages, benefits and sales practices.
Now the union known for representing workers at companies like AT&T Inc. and Verizon Communications Inc. has begun training bank employees for the next phase of its campaign, which will start this year: signing up co-workers on union cards and publicly demanding the companies recognize them and bargain with them. 
CWA and UNI Global Union, the global union federation backing its campaign, say unionizing front-line employees would help save the banks and consumers from future crises. But the union's push to redouble its efforts amid the most politically hostile environment to unions in decades is also part of a fight for its own survival.
"It's definitely an uphill fight, but it's definitely not impossible," says five-year U.S. Bank employee Marcus Dodson, an account employee and CWA activist in the corporation's Minneapolis hometown.
Higher Purpose
By giving workers a voice in shaping sales policies that won't require them to pitch customers unwanted financial products, or pressure them to make bad sales in order to hit unreasonable goals, the CWA envisions a loftier dividend of gaining greater social sway by policing banks from within.
"How can we give the best to our customers if we are in a bad situation?" asked former Wells Fargo & Co. employee Khalid Taha, who joined other activists with the CWA campaign in a protest Sunday outside the home of Wells Fargo Chief Executive Officer Tim Sloan. Before the bank eliminated sales goals for workers like him, he said, "We didn't have the chance to treat them as human."
Union critics say subjecting banks to collective-bargaining agreements would be bad for their customers.
"The bank would have less ability to incentivize the tellers and the personal bankers and the call-center workers to provide really high-quality service," says Melissa Schilling, a management professor at New York University's Stern School of Business. "It might become a lot more like going to the DMV, which none of us wants to do."
Expanding Influence
CWA frames the campaign not just as a way to grow its own ranks, which now number about 700,000, but also as part of a larger effort to fight what it says is the finance industry's predatory behavior toward consumers and hostile influence in politics.
The union says its members are among those who suffer from unfair foreclosures, fraudulent financial products, and debt-leveraged buyouts that result in aggressive cost-cutting.
"The biggest obstacle facing working people, and our members, is the deep financialization of our economy," said Erin Mahoney, organizing coordinator for the campaign.
The backdrop of the account-pumping scandal at Wells Fargo provides the contours to the CWA's argument. Not long after the union began its approach to bank workers, John Stumpf, then chairman and CEO, disputed the union's claims.
That Was Then
"None of our team members ever feel pressured to do anything that would not be in the customer's interest," Stumpf said in a May 2015 interview when asked about the CWA campaign. Although Wells Fargo was "certainly not anti-union," he said, "I don't think putting somebody between our team members and another team member who's their manager would be helpful to us."
In October, Stumpf resigned after revealing Wells Fargo had opened some 2 million accounts without customers' permission, fired 5,300 employees allegedly involved, and agreed to pay $185 million to settle with regulators.
Representative Keith Ellison of Minnesota, co-chair of the Congressional Progressive Caucus, hosted Wells Fargo employees involved in the CWA's campaign for a briefing about sales pressure last June. He says the workers' efforts helped expose the scandal.
"Bank workers need unions just as much as teachers, nurses, and construction workers do," Ellison said in an e-mail. "Organizing was critical to bringing the Wells Fargo case to light, and will be essential for bank employees in the future."
Small Sample
The 20,000 employees CWA says have joined one of its petitions, meetings, or protests still represent a fraction of the roughly 234,000 tellers, personal bankers, and call-center workers employed by the 10 largest U.S. banks, according to Cornerstone Advisors.
CWA, which during the Obama administration helped spearhead coalitions focused on issues like climate change and voting rights, is among the unions that have long seen their mission and future as tied to the broader progressive movement.
But campaigns like taking on the banking industry may be harder to sustain if CWA's budget faces fresh threats from Republicans now in full control of the federal government, a prospect that's already spurred the larger Service Employees International Union to make plans for a 30 percent budget cut by 2018.
Trump Effect
President Donald Trump has reinforced some unions' concerns by announcing a federal workforce hiring freeze as one of his first executive actions and by nominating Andrew Puzder, chief executive of CKE Restaurants Inc., as his labor secretary. Puzder had opposed President Barack Obama's push to increase overtime and minimum-wage protections and has spoken positively about replacing workers with machines.
"We will obviously have to assess things if we get to an environment where we have seen a dramatic loss of membership," said CWA's legislative director Shane Larson. He said the union is getting ready for the prospect that national "Right to Work" could become the law of the land, making it optional for any workers CWA represents to pay union fees.
But work like fighting the banks helps strengthen support for CWA among its existing members, Larson said. "We're preparing for that now in a number of ways, and a lot of it is engaging more directly with the members on things like taking on the power of Wall Street," he said.
"As workers, they recognize that their brothers and sisters who work at the big banks in the financial sector are getting screwed even more directly than they are."
Before it's here, it's on the Bloomberg Terminal.
LEARN MORE