Chobani Founder 'Very Concerned' About Trump's Immigration Order
By
Immigrant billionaire has sought to hire refugees at company

'This is very personal for me,' CEO says in memo to workers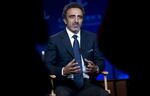 Hamdi Ulukaya, the billionaire who moved to the U.S. from Turkey and created the Chobani yogurt empire, said he's "very concerned" about President Donald Trump's executive order restricting immigration and refugees.
"This is very personal for me," he said in a memo to employees that was obtained by Bloomberg. "As an immigrant who came to this country looking for opportunity, it's very difficult to think about and imagine what millions of people around the world must be feeling right now. America has always been a symbol of hope, tolerance and diversity -- and these are values we must work very hard to uphold."
The executive order, which Trump issued Friday, sets new barriers to entry for people from seven predominantly Muslim countries: Syria, Iraq, Iran, Sudan, Somalia, Yemen and Libya. The administration also is seeking to suspend the admission of refugees for 120 days.
Ulukaya, who has made a point of hiring refugees to work at Chobani's factories, said he has dispatched legal and human-resources teams to explore whether any employees are affected by the order.
"We'll have their backs every day and every step of the way," he said.